FAR-OUT FLOWER POWER IN 'WOODSTOCK OR BUST' – STREAM ON DIGITAL PLATFORMS TODAY
"Charming and innocuous" – JB Records.
Los Angeles, CA – September 4, 2019 – Journey on a road trip of a lifetime today with 'WOODSTOCK OR BUST' on Amazon: https://amzn.to/2MeFUCN.
Produced by Big Film Kids and award-winning writer/director, Leslie Bloom (iTime Travel, Bill Nye the Science Guy, MAMA EARTH), WOODSTOCK OR BUST follows two best friends headed east for a road trip of a lifetime to New York's 1969 Woodstock Music & Art Fair.
"Willow Shields (The Hunger Games) and Meg DeLacy (The Fosters) have spectacular chemistry on screen with powerful vocals and charming dialogue between the two," wrote Crp Writes.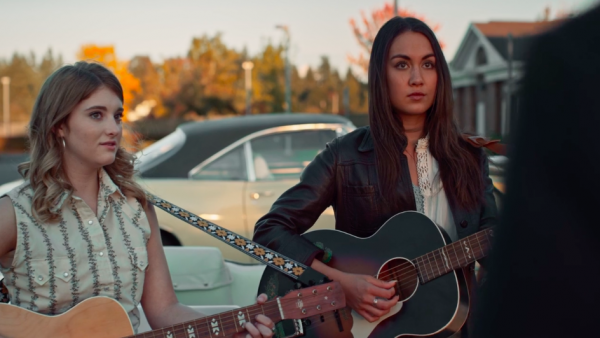 WOODSTOCK OR BUST follows two 17-year-old singer/songwriters from the West Coast, Lorian (Shields) and Meryl (DeLacy), who seize the once-in-a-lifetime chance to travel cross-country to perform at New York's famous Woodstock Music & Art Fair. Headed in a '65 Mustang convertible headed East, the teens defy all odds, including their parents and better judgment, concluding in a road trip that will change their lives forever – full of self discovery, life-changing love, music and friendship.
"The writing is masterful. Leslie Bloom wrote the film as well, and it is safe to say that her writing is far superior to her directing abilities. This is a tight script, a clever script, and one that with someone more experienced behind the camera would make for a fascinating and complicated coming of age story set in the late 60s. It takes on the reality of the decade and doesn't focus purely on the "peace," but instead directing our attention to the effects of the Vietnam War occurring," continued Crp Writes.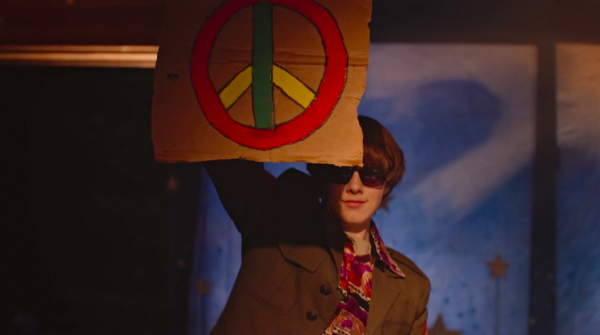 As a vibrant and authentic female friendship story, Bloom's feature is loaded with nostalgia and groovy tunes.
"WOODSTOCK OR BUST, with its plucked guitar throwback score by Blair Borland (slight incarnations of "Born to Be Wild, "Touch Me," and "Eight Days a Week" abound) and angelic original songs by Michelle Curtis Purvance ("Northern Lights" is a highlight), is a road-trip movie of an emboldened female friendship that lands with a starry-skied hush," concluded JB Records.
Now streaming on various digital streaming platforms (DirecTV, inDemand, Amazon, iTunes, Vimeo on Demand, Vudu, FANDANGO, Hoopla, AT&T, FlixFling, Google Play, and Sling/Dish). Watch the trailer for WOODSTOCK OR BUST here: https://www.youtube.com/watch?v=mHf5X0-2jqU.
WOODSTOCK OR BUST stars Willow Shields (The Hunger Games), Meg DeLacy (The Fosters, upcoming series Stargirl), Teddy van Ee (Captain Fantastic), Corey Brunish (Coup de Cinema), Elijah Stevenson (Cam, Everything Sucks!), four-time award winner, Rachelle Henry (Defining Moments, Missing, Grifters) and Christopher Kozak (Never Let Me Go, Like Crazy).
For more information, please visit: https://www.woodstockorbustmovie.com/ and for press inquiries, please contact [email protected]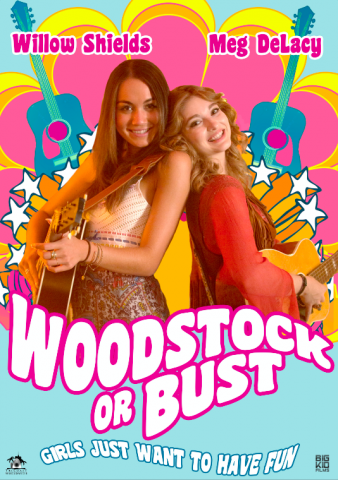 WOODSTOCK OR BUST (2018, 90 min.) Directed and written by: Leslie Bloom. Co-writer: Judi Blaze. Produced by: Leslie Bloom, Martin Wiley. Associate Producer: Sandra Doolittle. Edited by: Zachary Linkow. Original score: Blair Borland. Music: Michelle Curtis Purvance. Director of Photography: Israel Arias. USA, English. Big Kid Films, TriCoast Entertainment.
Produced by: Big Film Kids: Producing films for an underserved teen population with positive messages.
About TriCoast Entertainment:
TriCoast Entertainment is a premium Domestic Distributor, representing the best of US and international films: in theaters, on VOD, on DVD and TV. Sister company to TriCoast Worldwide and TriCoast Studios, the company is located at the TriCoast Studio facility in Culver City, Los Angeles.
Founded by: Strathford Hamilton and Marcy Levitas Hamilton.
Media Contact
Company Name: TriCoast Entertainment
Contact Person: Jenna Wilen
Email: Send Email
Phone: 3104587707
Address:11124 Washington Blvd.
City: Culver City
State: California
Country: United States
Website: http://www.tricoastworldwide.com