Hypoparathyroidism Market Size, Share, Trend, Epidemiology & Market Forecast to 2030
DelveInsight's "Hypoparathyroidism Market Insights, Epidemiology, and Market Forecast 2030" report delivers an in-depth understanding of the Hypoparathyroidism, historical and forecasted epidemiology as well as the Hypoparathyroidism market trends in the United States, EU5 (Germany, Spain, Italy, France, and United Kingdom) and Japan.
Hypoparathyroidism is a rare endocrine disorder characterized by low-calcium and high-phosphate levels, in the setting of a simultaneously low or inappropriate level of normal Parathyroid hormone (PTH). The most frequent etiology is surgical removal or loss of viability of parathyroid glands.
The second most common etiology is autoimmune hypoparathyroidism, related to autoimmune polyglandular syndrome type 1 or isolated hypoparathyroidism due to activating antibodies to the CaSR. Severe hypomagnesemia is an uncommon but reversible cause of hypoparathyroidism. Other rarer causes of hypoparathyroidism include infiltrative disorders, such as hemochromatosis, metastases or granulomatous diseases, radiation induced destruction of parathyroid glands, hungry bone syndrome post parathyroidectomy and HIV infection, and others.
Most signs and symptoms of hypoparathyroidism are due to hypocalcemia because low serum ionized [Ca2+] can alter neurological, cognitive, muscular, and cardiac function. Sometimes this occurs in a highly insidious manner. The rapid onset of hypocalcemia in the postsurgical setting can present dramatically that demands immediate and aggressive intervention. Alternatively, especially if the pace of development of the condition is gradual, patients with hypocalcemia due to chronic hypoparathyroidism can be nearly asymptomatic, despite profound biochemical disturbances. Hypoparathyroidism increases the risk of renal insufficiency, kidney stones, posterior subcapsular cataracts, and intracerebral calcifications, and others.
The Hypoparathyroidism market report covers emerging drugs, current treatment practices, Hypoparathyroidism market share of the individual therapies, current and forecasted Hypoparathyroidism Market Size from 2017 to 2030 segmented by seven major markets.
The report also provides detailed current Hypoparathyroidism treatment practice/algorithm, market drivers, market barriers and unmet medical needs to curate best of the opportunities and assesses the underlying potential of the market.
Hypoparathyroidism Market Key Facts
According to the review of literature, the prevalence of hypoparathyroidism in the United States reported as 37 per 100,000 person-years. Among this, 72% of cases belong to females (Clarke et al.). Only a few studies exist on the epidemiology of hypoparathyroidism in Europe (in Denmark, Netherlands, and Hungary).
Surgical removal is the most common cause of Hypoparathyroidism. Anterior neck surgery is the most common cause of acquired hypoparathyroidism, and responsible for about 75% of cases with a prevalence of 29 per 100 000 person-years; the remaining cases are related to non-surgical or more rarely, related to a genetic disorder. (Bilezikian et al.)
Despite precautions and expertise in surgical management, about 20 –30% of patients develop transient and 1–7% develop permanent postsurgical hypoparathyroidism after total thyroidectomy. (Shoback et al.)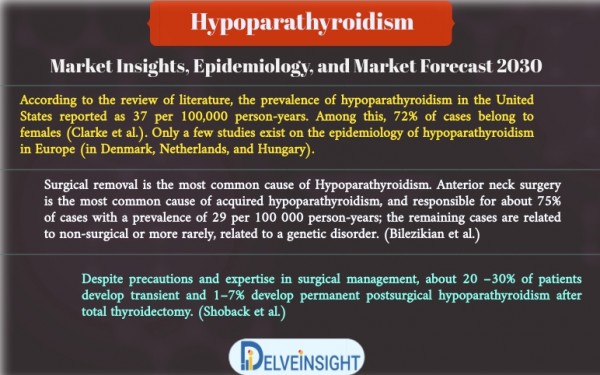 Visit For Sample Pages:
https://www.delveinsight.com/sample-request/hypoparathyroidism-market
Key Benefits of Hypoparathyroidism Market Report
Hypoparathyroidism market report provides an in-depth analysis of Hypoparathyroidism Market Size, Share, Trend, Epidemiology and Market Forecast till 2030, in 7 major market i.e. EU5 (Germany, Italy, Spain, France and the UK), Japan, and the United States.
The Hypoparathyroidism market report will help in developing business strategies by understanding the Hypoparathyroidism Market trends & developments, key players and future market competition that will shape and drive the Hypoparathyroidism market in the upcoming years.
The Hypoparathyroidism market report covers Hypoparathyroidism current treatment practices, emerging drugs, market share of the individual therapies in 7 MM.
The report provides a detailed assessment of the Hypoparathyroidism market in terms of market drivers & barriers, Unmet Needs, market opportunities, patient population, comparative analysis of pipeline products with detailed clinical profiles, and other factors.
The Hypoparathyroidism market outlook section of the report helps to build the detailed comprehension of the historic, current and forecasted Hypoparathyroidism market trends by analyzing the impact of current therapies on the market, unmet needs, drivers and barriers and demand for better technology.
The report gives a thorough detail of Hypoparathyroidism market trend of each marketed drug and late-stage pipeline therapy by evaluating their impact based on the annual cost of therapy, inclusion and exclusion criteria, mechanism of action, compliance rate, growing need of the market, increasing patient pool, covered patient segment, expected launch year, competition with other therapies, brand value, their impact on the market and view of the key opinion leaders.
Hypoparathyroidism Epidemiology
The Hypoparathyroidism epidemiology section covers insights about historical and current Hypoparathyroidism patient pool and forecasted trends for every seven major countries (i.e. the United States, EU5 countries (Germany, Spain, Italy, France, and the United Kingdom), and Japan from 2017 to 2030.
It helps to recognize the causes of current and forecasted trends by exploring numerous studies and views of key opinion leaders. The epidemiology section also provides the diagnosed patient pool and their trends along with assumptions undertaken.
Hypoparathyroidism Drugs Uptake and Key Market Players
The Hypoparathyroidism Drugs Uptake section focuses on the rate of uptake of the potential drugs recently launched in the Hypoparathyroidism market or expected to get launched in the market during the study period. The analysis covers Hypoparathyroidism market uptake by drugs; patient uptake by therapies; and sales of each drug.
Drugs Uptake section helps in understanding the drugs with the most rapid uptake, reasons behind the maximal use of new drugs and allow the comparison of the drugs on the basis of market share and size which again will be useful in investigating factors important in market uptake and in making financial and regulatory decisions.
Major players in the Hypoparathyroidism market include Entera Bio, Ascendis Pharma, and others. The entry of new therapies by these companies are expected to fuel Hypoparathyroidism market growth in the coming year.The emerging therapies in the Hypoparathyroidism market such as PTH (1-34) (Entera Bio), TransCon PTH (Ascendis Pharma) along with others are in the various stages of development for the treatment of Hypoparathyroidism.
Table of Content
1. Key Insights
2. Executive Summary
3. Hypoparathyroidism Competitive Intelligence Analysis
4. Hypoparathyroidism Market Overview at a Glance
5. Hypoparathyroidism Disease Background and Overview
6. Hypoparathyroidism Patient Journey
7. Hypoparathyroidism Epidemiology and Patient Population
8. Hypoparathyroidism Treatment Algorithm, Current Treatment, and Medical Practices
9. Hypoparathyroidism Unmet Needs
10. Key Endpoints of Hypoparathyroidism Treatment
11. Hypoparathyroidism Marketed Products
12. Hypoparathyroidism Emerging Therapies
13. Hypoparathyroidism Seven Major Market Analysis
14. Attribute Analysis
15. Hypoparathyroidism Market Outlook (7 major markets)
16. Hypoparathyroidism Access and Reimbursement Overview
17. KOL Views on the Hypoparathyroidism Market.
18. Hypoparathyroidism Market Drivers
19. Hypoparathyroidism Market Barriers
20. Appendix
21. DelveInsight Capabilities
22. Disclaimer
About DelveInsight
DelveInsight is a leading Business Consultant, and Market Research Firm focused exclusively on life sciences. It supports pharma companies by providing end to end comprehensive solutions to improve their performance.
Media Contact
Company Name: DelveInsight Business Research LLP
Contact Person: Anuj Rawat
Email: Send Email
Phone: +919650213330
Address:304 S. Jones Blvd #2432
City: Albany
State: New York
Country: United States
Website: https://www.delveinsight.com/