FlexBeam – The World's First Targeted Red Light Therapy Device – is Now Available for Use at Home
OSLO – October 20, 2020 – FlexBeam will launch on Indiegogo on October 20, giving people worldwide the ability to heal their bodies right at home. This is the first in a line of personal therapy devices developed by Recharge, a new and ambitious international startup company in health technology.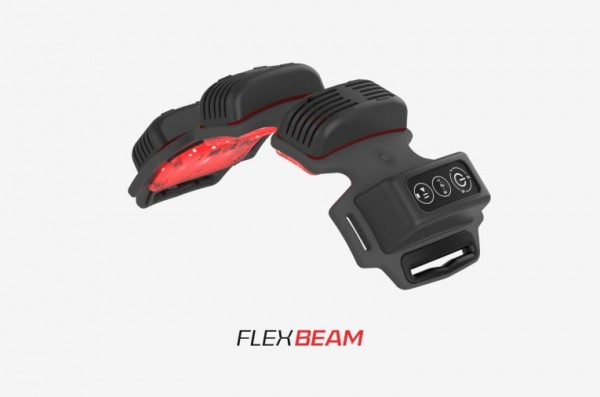 Red light therapy has been scientifically proven to turbocharge the body's self-healing process. Light at specific red and near-infrared wavelengths triggers a physiological healing response. This has been demonstrated by thousands of peer-reviewed studies, including research at NASA, where near-infrared light helps astronauts heal faster.
"Astronauts, Olympic athletes and wealthy people have been using red light therapy for a long time," says Recharge CEO Christian Barmen. "The invention of FlexBeam has made this technology rechargeable and portable at a fraction of the usual cost."
Recharge's in-house electronic design engineers have spent three years developing this ISO and FDA certified device. The red light packed in FlexBeam relieves pain, reduces inflammation, repairs cells and improves recovery. Thanks to its design, FlexBeam is perfect for use anytime, anywhere.
FlexBeam is already a favourite among athletes, trainers, therapists and biohackers worldwide. Recharge has sold 500 units with overwhelming positive feedback and no product returns. Anyone can watch and read the testimonials from multiple people whose lives have been changed by the FlexBeam on their website, theflexbeam.com.
Recharge's technology director, Arjen Helder, was looking for solutions for his wife's back pain when he discovered the benefits of red light therapy. Most red light therapy products are wall panels you have to stand in front of. Arjen realized the delivery of powerful red and near-infrared wavelengths into the body would be more efficient with a targeted device.
To make red light therapy more effective, the device should be placed on the skin so that it can penetrate deep into the body. Helder designed the FlexBeam to perfectly fit the human body. This flexibility, efficiency and usability sets the device apart from anything else on the market.
About Recharge
Recharge is a medical device company which specializes in personal energy devices. Their first device, FlexBeam, uses red and near-infrared light to heal the body and speed up recovery. Recharge is pioneering the next wave of innovative and empowering health technology.
Media Contact
Company Name: Recharge
Contact Person: Bjorn Ekeberg
Email: Send Email
Phone: +47 906 46 006
Country: Thailand
Website: https://theflexbeam.com/