MT Viking moves to the top with a new winning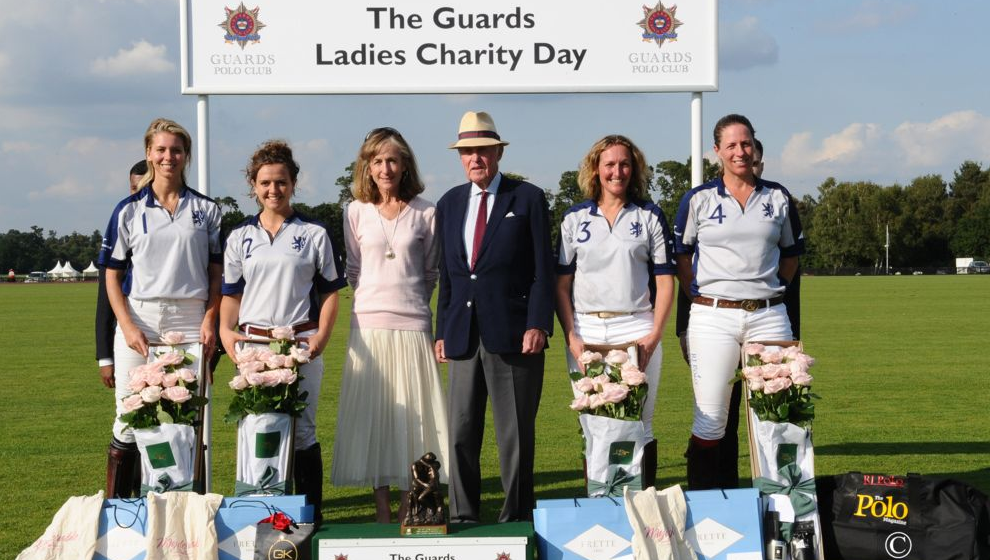 A new name has been added to the polo history! The MT Viking Polo Team made its way to the top and after winning the Guards Polo Club's first ladies' tournament, they crown themselves in the polo history. The victory took place in a tight game on the Queen's Ground, in which Siri Evjemo Nysveen and her team received the Lord Patrick Beresford Trophy, after defeating Arabella Morris's Hascombe Stud squad 4-3.
The addition of this tournament is really interesting. This tournament was added to the Club's fixture list and it was a result of the increased popularity that this sport has had around the ladies. All the teams – 8 entered this open, 18-goal competition – were playing off their ladies' handicap, including Hascombe Stud's Nina Clarkin who is rated at 10 goals.
It is a great privilege to have a ladies' tournament in such a prestigious club and getting MT Viking to the first place definitely wasn't easy. Years of training lead them to this moment, to this match that started light but ended up pretty tight.
Siri Bazzoni's MT Viking went to that match with one thought in their heads, get the trophy home. A lot of names highlighted on this match. There were several awards delivered and all the players of the winning team got some form of prize home.
But the most important prize was the win. You could see how proud they were of that trophy; how hard they work for it and the joy of seeing it pay off. The win wasn't secured until the last part of the match, which made it really interesting for the audience that went crazy when that final point was scored.
During this game, there was little air between the scores for much of the game, but Emma Boers picked up a ball from a melee with only seconds left of this final to ensure that victory went to the MT Viking team. After a lot of hard work, they accomplished the goal of taking the team to the top and they were awarded by it.
The presentation of the trophy was in charge of Lord Patrick Beresford, Guards Polo Club's first Polo Manager in 1955, which made it a very emotional moment for all the present public and a well-deserved applause for the winning team. There were also other awards involve, which will be discussed below.
Emma Boers was also awarded thanks to her great performance during the game. She received The Polo Magazine's Most Valuable Player prize, one of the most important awards in the Polo environment and she earned with hard dedication as well as great performance in the field. The performance of all players was extremely important since this game was the opportunity to make history, and so they did.
On the other side, Emma Wood (nee Tomlinson) was also awarded with the Polo Times Best Playing Pony prize for Javad. He was an impressive, 10-year-old, Ellerston-bred stallion. This is a well-earned prize after showing great performance and movement during the tight game.
But that was not it. Every player received an armful of gifts, including some beautiful, fresh flowers from OnlyRoses, towels from Frette, Fenwick Bracknell gift vouchers or goody bags, Mydorable chocolates, tasting bags from Tropics of Tea and Russie Blanche luxury toiletries.
It is important to also talk about the match that was played earlier that day. Jasmine Calvert-Ansari, won the subsidiary final with her White Crane team. They defeated Silent Pool Gin (rec 11/2) 5-41/2 in another close match, this time played on the Duke's Ground and with a lot of enthusiasm.
And on this very important day, the Guards Polo Club hosted a lunch to raise funds for Breast Cancer Haven. This lunch has been a tradition year after year, as a way to help and support this foundation that makes such an important work in helping woman deal with breast cancer.
Breast Cancer Haven was founded by Sara Davenport in 1997, after experiencing a close family friend case that was diagnosed with breast cancer. It was then shown that a major concerned in breast cancer patients was the lack of emotional support and information available at that time.
Believing that "no-one should have to face breast cancer alone", Sara sold her art business and put all of her energy into creating Breast Cancer Haven.
Breast Cancer Haven, London opened in February 2000 followed by Breast Cancer Haven, Hereford in January 2004, Breast Cancer Haven, Yorkshire in October 2008, Breast Cancer Haven, Wessex in 2015, Breast Cancer Haven, Worcester in 2016 (outreach) and Breast Cancer Haven, West Midlands in 2017. A one-day-a-week service at the Whittington Hospital, Archway, London was established in June 2017 and a satellite one-day a week all cancers service was opened at Maggie's, Cheltenham also in June 2017.
Now this foundation has become a reference in terms of helping patients with the disease and the work of the Guards Polo Club in fundraising to help this foundation grow even more is applauded by everyone.
About the Guards Polo Club
This club was founded on 25th January 1955 with HRH The Prince Philip, Duke of Edinburgh, as President. The original name of the Guards Polo Club was Household Brigade Polo Club and it was changed in 1969. In 2000, it became a fully civilian club and that lead them to become the largest polo club in Europe in terms of membership and number of grounds.
The club is set in the outstanding natural surroundings of Smith's Lawn. Nearby are the renowned Savill and Valley Gardens. Such a spectacular location, impressive fixtures list and the Club's unrivalled, close relationship with the Royal Family ensures that Guards Polo Club is, without doubt, one of the most famous polo clubs in the world.
With a lot of well known partnerships like Cartier, Hildon, Fifth chukker, Polo Times and Access; the Guards Polo Club offers several types of memberships with benefits and their surroundings make it totally worth it.
For more information: https://www.guardspoloclub.com/
Media Contact
Company Name: Guards Polo Club
Contact Person: Media Relations
Email: Send Email
Phone: 01784 434212
Address:Smith's Lawn, Windsor Great Park
City: Egham
State: Surrey
Country: United Kingdom
Website: https://www.guardspoloclub.com/