Maxima Racing Syndication Launches World's First NFT Racehorse Exchange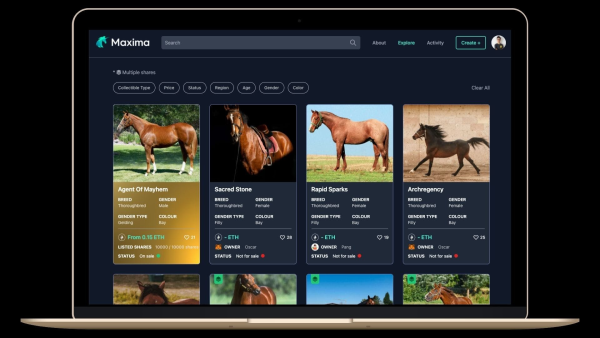 Maxima Racing Syndication has announced the launch of the world's first blockchain-based racehorse ownership exchange powered by the Maxima NFT. The Maxima racehorse exchange is the only digital marketplace for racehorse non-fungible tokens (NFTs) by ERC-721 and ERC-1155.
All racehorses are backed by physical counterparts and shareowners can gain access to a transparent account of a horse's history.
Every sale on the exchange is recorded on the blockchain and the company assures buyers that the data is publicly accessible for great price transparency, without hidden fees.
"At its core, Maxima is a dynamic and interactive trading exchange for racehorse owners, which ensures not only a fully immersive experience but also fluid entry and exit as necessary. In addition, industry professionals can use the platform to improve their business' operational efficiency, reduce risks, promote their brands, and gain access to a rich global network of stable clients."
By making share transfer available through the blockchain, Maxima will construct diversified racehorse portfolios for owners and client exposure for service providers.
The platform will ensure that a racehorse NFT is minted only after the horse has been verified and the creator passes the KYC process. It also promises syndication and auction listing that enables racehorses to either be fully owned or shared by multiple users in fractional shares. And allows users to buy or bid on a unique racehorse for a Genesis-NFT.
The Maxima racehorse exchange platform will also keep co-owners steadily informed on the progress of their racehorses. And will allow them to watch the development at every stage.
Other features include; the appreciation of prices when horses win races, royalty payments to creators each time their shares are purchased, and tournament bonuses for best performers.
Maxima says its platform is designed by experienced horseracing participants, and built by a team of blockchain, artificial intelligence, big data, and leading technology experts. The company also maintains that its mission is to make global racehorse trading and ownership easier, efficient, transparent, liquid, and accessible to everyone.
For more information, please contact below.
Media Contact
Company Name: Maxima Racing Syndicate
Contact Person: Media Relations
Email: Send Email
Country: United States
Website: https://www.maxima.horse/