StogaPink Adds The LED Backlit Optical Game Ergonomic USB Wired Mouse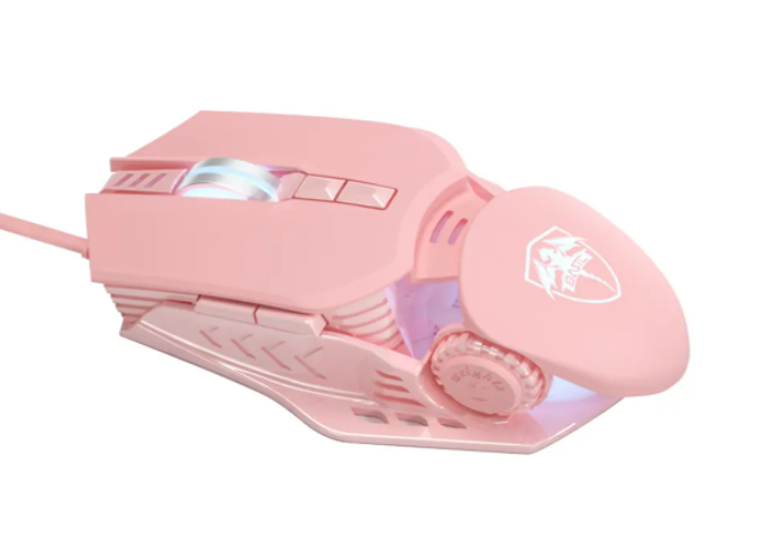 Innovative lifestyle brand, StogaPink, announces an addition to their range of pink-themed products with the launch of the LED Backlit Optical Game Ergonomic USB Wired Mouse
The StogaPink team has reiterated their commitment to providing women of all age groups with premium quality products to meet their diverse needs as the brand adds the LED Backlit Optical Game Ergonomic USB Wired Mouse to their inventory. In a related development, the online store has also announced the addition of the pink gamepad and headset to their consumer electronics category.
Overview Of The Global Consumer Electronics Market
A recent report published by Fortune Business Insights put the value of the global consumer electronics market size at $729.11 billion in 2019. Experts have also revealed that the market is projected to grow to $989.37 billion in 2027. The figures are a reiteration of the steady growth in the market, a phenomenon driven by the increasing demand for the latest solutions in the market. Despite the amazing figures from the industry, there are very few brands dedicated to meeting the needs of female shoppers, even with the steady emergence of a plethora of online stores. However, the team at StogaPink looks poised to change this narrative as substantiated by the recent addition of new products for their customers.
StogaPink And The Decision To Go With The Color
Pink is popularly known as a feminine color due to its delicate nature. The color means sweet, nice, playful, cute, romantic, charming, feminine, and tenderness often described as the color of universal love of oneself and others. It is also said to represent affection and friendship and the official color for little girls, which says a lot about the decision of Stoga to adopt it.
Each product from StogaPink is created to exude the characteristics of pink without sacrificing its functionality, a claim substantiated by the versatile ergonomic USB wired mouse.
The LED Backlit Optical Game Ergonomic USB Wired Mouse
The LED Backlit Optical Game Ergonomic USB Wired Mouse comes in pink color as expected, with a wide range of features that uniquely combine style with functionality. The mouse has an ergonomic shape design, with the roller having a rubber and skin-friendly surface and an ideal right palm size to allow users to game for long hours without feeling any pain.
Other features of the optical wired gaming mouse include user-friendliness, requiring no installation of extra drivers or software, with 7 programmed buttons, USB: 2.0 port support, 10G acceleration, and easy maneuverability for games, work, and everyday use. The app has programmable buttons, customizable DPI, LED lighting modes, polling rate, and wide compatibility with Windows 7/8/ME/NT XP Vista Linux operating systems.
Feedback From Users
The LED Backlit Optical Game Ergonomic USB Wired Mouse has already started to enjoy rave reviews from buyers and users alike. "SUPER LIGHTWEIGHT. I was surprised by how light it is, had me a little concerned for the quality of it, considering it was SO cheap. But it is working great, it looks like the pictures and the click is almost inaudible. You gotta really concentrate to hear it. The RGB lights work great and they're pretty without being too bright for the eyes!Definitely a must have if you're in a budget and wanna have," said Alondra V.
Other Products From StogaPink
StogaPink also has a wide range of other products carefully designed with attention to detail and using premium materials. One of such products is the Panda Joypad Controller for Switch from the STOGA Panda controller Series. The user-friendly controller for Nintendo Switch has a cute design, with features that make the gaming experience even more pleasurable. The pad offers long gaming sessions, with a 400 mAh capacity and 10 hours of playtime.
Inspired by pandas, the controller has a curve design and is compatible with both the Nintendo Switch and Nintendo Switch Lite, allowing users to enjoy the thrill of multiplayer battles. "I was debating if I should buy these, but I'm so glad I did. It's much easier to use than I bought before. The only reason I give 4 stars is because sometimes it's annoying to have to take some time to connect them but other than that they are PERFECT! I highly recommend this," said JASHON.
For more information about StogaPink and the range of products from the brand, visit – https://stogapink.com/.
Media Contact
Company Name: STOGA Technology Co., Ltd.
Contact Person: HuiMin Jin
Email: Send Email
State: SHENZHEN
Country: China
Website: https://stogapink.com/