FemCEO Announces Date for Next Business Summit
Learn, play and relax at the next FemCEO Business Summit for CEOs, Coaches, Entrepreneurs and Course Creators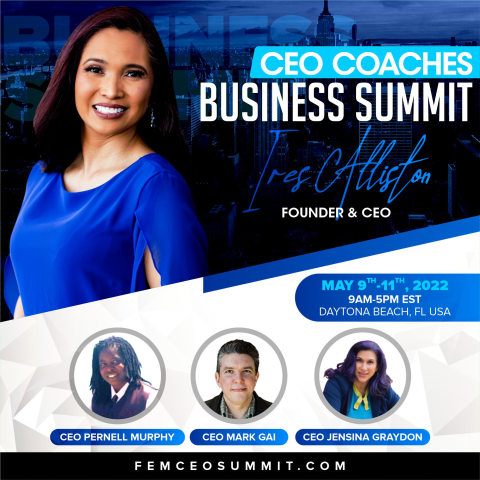 FemCEO has recently announced the date for its next business academy summit. Scheduled to hold for 2 days from the 9-11th May 2022, theFemCEO Summit will be hosted at the breath-taking Hilton Daytona Beach Oceanfront Resort in Florida. This business summit for CEOs and entrepreneurs promises to be action oriented as participants will get a chance to learn directly from Ires Alliston, CEO and Founder of FemCEO. Participants will gain all the knowledge and confidence they need to start selling their coaching and training offers. They would walk away with a proven client getting system that helps them cut through the clutter and gain high-ticket clients on autopilot.
During the period of the summit, business women and men will get a chance to forge relationships and gain exposure by meeting like-minded CEO coaches, solopreneurs, and course creators. The venue for the summit was carefully picked by Ires Alliston to ensure that participants also have a relaxing and refreshing social time as they learn and network. The Hilton Oceanfront Resort is conveniently bordered by some of Daytona's best attractions such as the Daytona Beach Boardwalk, pier shops and restaurants that line the Ocean Walk Village. Attending CEO Coaches, Course Creators and Entrepreneurs can therefore rest assured that the FemCEO Business Summit is worth every minute of their time.
In line with Ires Alliston's FemCEO pillars of success – scaling, marketing, enrolling and monetizing, the summit has a line-up of the best speakers who will be dishing out business secrets, tips and tricks for every level of entrepreneurship.
As an 'Award-Winning' Certified Business Coach, Trainer, and Speaker, Ires Alliston is renowned as the #1 Trusted Advisor for Introverted Coaches and Entrepreneurs. Over several years, she has passionately helped these people scale their coaching business, gain more freedom of time, book more clients and achieve tremendous success as top industry leaders. Her clients have been featured on affiliated media sites like ABC, CBS, NBC, Digital Journal, and more. She's a former columnist for Funnel Magazine and has been featured in Speakers Magazine. She's also the Founder and Editor-in-chief of The Six-Figure Women Coaches Magazine. Ires's signature courses include "Clients System," "High-End Academy," "Coaching for Masters Accelerator Program," "Personal Branding Mastery," her exclusive "Six-Figure Velocity Mastermind," just to name a few.
Ires will be speaking at length on marketing and conversion strategies during the summit. She will teach participants how to unlock their freedom by marketing their high-ticket program on digital platforms. She'll also talk about building lead generation funnels, structuring your high-ticket program, and creating webinars that convert leads into customers.
Other speakers include Mark Gai, CEO, Speaker and Trainer and Jensina Graydon, CEO of Purple Ivy Digital Mktg and Pernell Murphy CEO of M.E. Fitness. As a high value and high demand business summit, FemCEO is currently almost sold out with only 15 seats available. Interested participants can purchase early bird tickets (with limited time pay plans) and premium tickets here.
More info at https://femceosummit.com/
Media Contact
Company Name: The FemCEO Business Summit
Contact Person: Ires Alliston
Email: Send Email
City: Daytona Beach
State: Florida
Country: United States
Website: femceosummit.com