The Difference Of Die Grinder and Angle Grinder – Kangton
Have you ever wondered what the difference is between an angle grinder and a die grinder? More than that, have you ever thought of purchasing one or the other and couldn't make up your mind as to which one would tackle your project the best? We will look at both types of grinders and show you the various characteristics of each of them so that you will have a better idea of which one will be the better choice for your needs.
In a nutshell, a die grinder is typically smaller and has several different attachments that can help you cut, sand, polish, and various other things. The angle grinder is a larger and often heavier tool that uses a rotating wheel to grind, sand, or cut larger materials. They both have a place in your toolbag, and we will discover which is the most appropriate one.
Overview of Die Grinder
Let us first take a closer look at the die grinder. Your die grinder can assist you with many tasks around your house or shop. If you are not familiar with a die grinder let us give you a brief overview of some of its key features.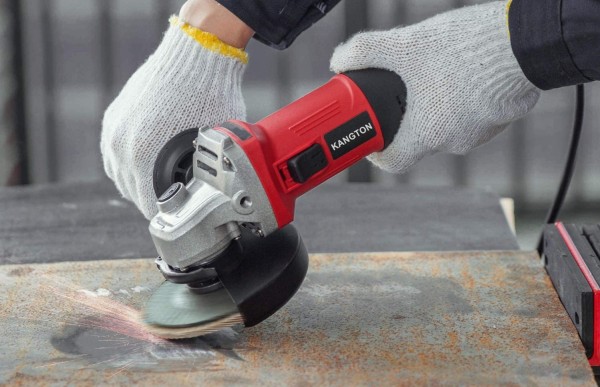 How It Works
A die grinder is a small, handheld power tool that is sometimes referred to as a rotary tool. It has a rotating spindle where a sleeve is used to tighten a bit to the end. For example, a sanding bit can be attached that will rotate at a very high speed and is used to smooth or remove material from your wood project. Now there are several different sanding bits, so the bit you use will vary depending on the need. Keep in mind too, there are many different bits, for many different purposes which we will discuss a bit later.
Die grinders can be used with compressors or can be powered by electricity. For the average homeowner, the electric model is sufficient. Either way, they are lightweight, averaging from 1 to 3 pounds.
Uses
We mentioned one task the die grinder can handle earlier. Sanding, but a dozen or more others are depending on the bit you attach to your tool. Most often die grinders are used on metal to smooth welded joints, or polish. However, you can use your die grinder to cut small metal, wood, or even plastic items. Then after you cut, you trade your bit for a polishing one or a sanding one and you can smooth out your edges.
Machines shops use die grinders regularly to smooth out die cuts. Household uses range from cutting or notching small wood projects or crafts, to removing rust from car parts or tools. The uses are as many as the ideas that you come up with. Just find the right attachment and you will be able to correct just about any problem that you encounter.
When to Use a Die Grinder
We have seen how die grinder works and what some of its uses are but when to reach for the die grinder? Well, considering the size of the tool, and the power that it has, you can probably assume that many of the projects that you will use the die grinder for are on a smaller scale. Meaning you would not want to tackle sanding a large area with this tool, or try and cut a thick piece of metal or wood. You would find this tool helpful on smaller items, tighter spaces, or vulnerable materials.
Overview of Angle Grinder
We will now breakdown the uses and features of the angle grinder. It too has many uses and can be a valuable tool to have in your garage or at your job site. Let's discover together some of the angle grinder's unique features and how it may differ from the die grinder.
How It Works
An angle grinder is sometimes referred to as a disc sander or a side grinder. Its name describes how the tool looks; the head of the tool is at a 90-degree angle from the shaft of the tool. An angle grinder is a handheld power tool that has a rotating disc approximately 4 to 5 inches in diameter. Its main use is for grinding and polishing.
Many angle grinders are electric, either corded or cordless, but there are air tool grinders that are used with a compressor. Large scaled angle grinders can even be gas-powered. Whichever power source you consider, know that the design of the angle grinder can vary from brand to brand. One thing that many of them have in common is the size of the discs that are used, that is why you can find them at your local hardware store. However, as we will see a bit later, there are many types of discs to choose from depending on the job.
The majority of angle grinders weigh anywhere from 5 to 10 pounds, approximately double that of a die grinder. The motors range from 3 to 4 amps up to 7 or 8 amps. They can produce RPM over 10,000.
Uses
As with the die grinder, there are many uses for the angle grinder. As was stated before, its primary function is polishing and grinding, but that can be applied to a variety of materials and projects. It also can cut and sand if you use the appropriate disc. So, depending on the material you are working with and the task you are wanting to complete, your angle grinder will be able to complete the task as long as you attach the correct disc.
For example, if you need to cut masonry, there is a diamond blade. For metal, there are metal cutoff discs. For cleaning rust off of metal there is a wire cup brush. If you have an issue, there is a disc to help with the problem. Remember too, that the angle grinder has a much more powerful drive motor than the die grinder, so it can take on larger-scale projects and more involved ones.
Media Contact
Company Name: Kangton Industry,Inc.
Email: Send Email
Phone: 86 021 551511611
Country: China
Website: https://www.kangton.com/