Top Hollywood Acting Coach awarded Most Influential Filipina in the World Award.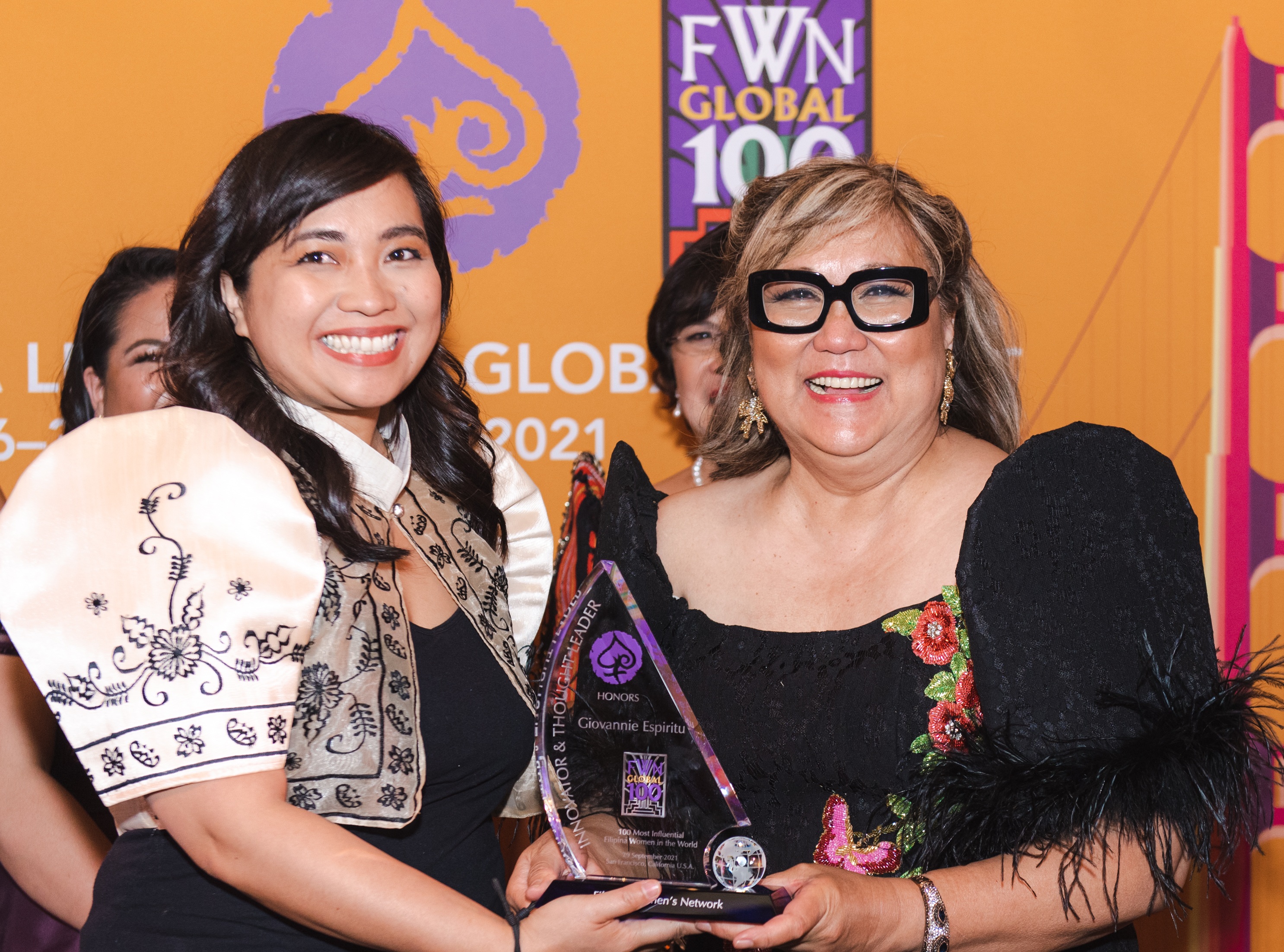 Top Hollywood Acting Coach Giovannie Espiritu (left) received the Most Influential Filipina Woman in the World Award by the Filipina Women's Network president Marily Mondejar (right).
Award-winning filmmaker, actor, and top Hollywood acting coach Giovannie Espiritu was awarded the prestigious "Most Influential Filipina Woman in the World" award from the Foundation for Filipina Women's Network.
The Foundation for Filipina Women's Network recognizes women of Philippine ancestry who are changing the face of leadership in the global workplace, having reached status for outstanding work in their respective fields and are acknowledged for their contributions to society, femtorship and legacy. Espiritu was selected from an outstanding field of nominees from around the world in the category of Innovators and Thought Leaders.
Her work with children and teens as an acting coach has led to a multitude of success stories, with some of her alumni starring in their own shows (the Espina sisters – hosts of Dreamworks' Life Hacks for Kids), Emmy nominees (William Lipton – Cameron on General Hospital), part of the biggest animated films (she consults for Pixar), and numerous recurring roles on Disney and Nickelodeon shows. Although Espiritu is known for helping families navigate the entertainment industry in a holistic fashion, she is most proud of the growth of empathy and emotonal awareness from her students.
As a woman of color in the film industry, she began getting frustrated with the lack of roles, so she began writing and making films herself. Her first film, "Ultra-Feminist," won Honorable Mention at Outfest Fusion, and her second film, "Ally 3000," won multiple awards on the film festival circuit and was recently acquired by TBA Studios.
Her ten word acceptance speech sums up her philosophy for life and storytelling: "Break hearts wide open and create more moments of joy."
About Giovannie Espiritu
Actress and filmmaker Giovannie Espiritu was nominated alongside Academy Award Nominees Alfre Woodard and Amy Irving for Best Supporting Actress at MethodFest for the Mynah Films feature film Fiona's Script. Primetime credits include a recurring role on ER, Bones, Gilmore Girls, Trauma, and can currently be seen as the lead in the Amazon series, "Dyke Central," a top LGBTQ series to watch. Her short film, "Ultra-Feminist," was awarded Honorable Mention at Outfest. Her second short film, "Ally 3000," won Best Screenplay at the Culture and Diversity Film Festival (Los Angeles) and the Cyrus International Film Festival (Toronto), as well as several awards in the categories of Social Justice, Scriptwriting, and Woman Filmmakers. She coaches kids/teens online nationwide through HollywoodActorsWorkshop.com and was just named as one of the top 40 Audition Coaches in Los Angeles. She has served on the Board of Directors for C.O.R.A. (a Bay Area domestic violence hotline and agency) and been awarded a Certificate of Recognition from the Senate for her community service.
More at: http://www.GiovannieEspiritu.com
Media Contact
Company Name: Giovannie Espiritu PR
Contact Person: Giovannie Espiritu
Email: Send Email
Phone: 3108694993
Country: United States
Website: giovannieespiritu.com