The Ty Cobb Museum receives a valuable Ty Cobb relic for Display and Analysis
The Original Scorebook of the 1904 Anniston Noblemen of the Tennessee-Alabama League.
A truly unique and valuable Ty Cobb relic has recently been given on extended loan to the Ty Cobb Museum by Tom Rivers and Rachael Waters of Birmingham, Alabama for display and analysis.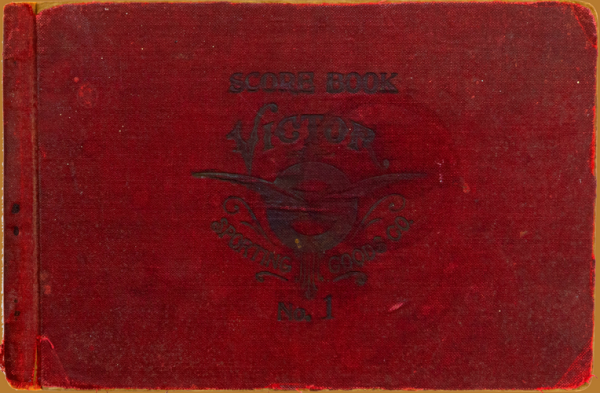 Lloyd Rivers, Tom Rivers' grandfather, was quite well known as a semi-pro player in Anniston in the years immediately after Cobb was there in 1904. He pitched for the same Anniston team the next year in 1905. In later years, Lloyd Rivers was known as a successful businessman in Anniston where he ran a thriving insurance business. It is not certain how Lloyd Rivers he came into possession of the Official 1904 scorebook kept by the Anniston Noblemen team that played in the Tennessee-Alabama League that year, but at least one historical source has stated that Lloyd Rivers himself was the scorekeeper. One thing is clear: Rivers held on to this scorebook for decades as a treasured momento of his youth, as did his wife who survived him. When Mrs. Rivers died, the scorebook was passed down to Lloyd Rivers' grandsons, Tom and Robert, who have now passed ownership on to Tom's granddaughter, Rachel Waters.
The scorebook itself is a product of the Victor Sporting Goods Company, and in the front pages the O.P. Caylor System of scoring was explained. O.P. Caylor was a turn of the century sportswriter and a baseball entrepreneur. The size of the book is approximately 5″ x 8″, with a dark red cover. At the top of the first page, written by hand in ink is the notation, "Anniston Base Ball Parks Association." On the facing page are the images of various other baseball products of Victor Sporting Goods.
The first game recorded in the book took place in Anniston, Alabama, May 16, 1904, the opening day game between the Anniston Noblemen and the Bessemer Marvels. Ty Cobb was in left field and was shown fifth in the batting order. The scorebook pages for that game, and the other twenty home games played that year, give details in addition to the actual game statistics, like the game having started at 3:30pm and ended at 5:44pm with a time-of-game of 2 hours and 14 minutes. Gate receipts were recorded as $86.80. The umpire was shown as Mr. N. C. Smith. Bessemer won the game that day 9 to 4, out hitting Anniston 9 hits to 5. The game was filled with errors: 5 by Anniston and 4 by Bessemer.

In total there are twenty-one Anniston home games recorded in this scorebook, running from May 16, 1904 through July 9, 1904. Ty Cobb played in the outfield in each of these games, and the scorebook contains a complete and detailed record of Cobb's games in Anniston that early summer of 1904. The legibility and completeness of this record of the 1904 home games is truly amazing.
1904 Ty Cobb was just beginning his professional baseball career. He had signed with Augusta, Georgia Tourists of the Sally League early that year. After only two games Cobb was released along with pitcher, Thad Hayes, who was a friend of the manager at Anniston. Hayes was invited to play in Anniston, and he knew that Anniston was looking for an outfielder. He persuaded Cobb to go with him to this town in northeastern Alabama.

Cobb signed on with Anniston for $65 per month plus room and board, a very good wage for a seventeen year old in that era. He played in Anniston about three months, until the Anniston team folded and withdrew from the league on July 9, 1904. One historian has recorded that Ty played at least one game for the Sheffield, Alabama team before the Augusta Tourists of the Sally League contacted him again and offered him another contract. He returned to Augusta for the remainder of the 1904 season, played in 1905 with the Tourists, and had his contract purchased by the Detroit Tigers late in the 1905 season. His first Major league game for Detroit was on August 30, 1905, and the rest is history.
The Anniston Noblemen were part of the Tennessee-Alabama League, along with Columbia, Knoxville (the Mountaineers) Chattanooga ('Noogans), Sheffield, Decatur, Huntsville, and the Bessemer Marvels. The league was not a member of the National Association, and therefore was considered an outlaw league.
Cobb played very well at home in Anniston in those few months of 1904. The scorebook shows he hit 30 times in 80 plate appearances for a .375 average, over the twenty-one home games recorded. This confirms the assertion in his 1961 autobiography that said he hit about .370 in Anniston. In these recorded home games, Ty hit one home run, had five triples and three doubles. He scored 16 runs and had 11 multiple hit games. In those 21 games he failed to hit only twice, had hits in his first 11, and had 11 multiple hit games. Cobb stole a total of 10 bases in these 21 games, enough to make him tops in this department for both the Anniston club and the league up to the point where Anniston withdrew from competition. The scorebook also shows that Ty played both left and center field, and batted in several different spots in the order, with second and third the most common.
This scorebook is the only existing detailed record of the first year of Ty Cobb's long baseball career. In addition to detailed statistics, it also offers a window on small town, Southern baseball in the early part of the twentieth century. Most of the Anniston home games in 1904 were played in under two hours, with the shortest games, three of them, at 1:25. Average game time was about 1 hour 40 minutes. Attendance varied from about 200 to 500 with gate receipts ranging from $46 on a ladies day, to $100 for most games. Most games were played in the late afternoon, starting anywhere from 3:30to 4:15, with two morning games which started at 9:30.
While the data provided in this unique relic are detailed and certainly informative, they do not provide a complete record on Ty Cobb's 1904 playing days in Anniston. Only the home games of the Noblemen are recorded in this scorebook. Anniston Star sportswriter Bill Plott researched all the newspapers of cities with teams in the Tennessee-Alabama League to glean box scores for away games. He reported this exercise in 1968, adding stats from box scores published for six of Anniston's 1904 away games, but did not publish his results with the level of detail that modern day statisticians desire.
In addition to displaying this 1904 Scorebook for baseball historians and Ty Cobb fans to view, the Ty Cobb Museum hopes to combine the data from all sources, and publish additional details of the Tennessee – Alabama League statistics for other league teams and players.

The Ty Cobb Museum in Royston, Georgia was founded in 1998 to memorialize and honor the baseball career, the philanthropy and the life of Royston native Tyrus Raymond Cobb.
The Ty Cobb Museum is at 461 Cook Street, Royston, Georgia, and is open Monday through Friday from 9:00 am to 3:00 pm and Saturday from 10:00 am to 3:00 pm.
For further information about the Museum, visit its website at TyCobbMuseum.org, or contact the Museum at 706-245-1825.
Media Contact
Company Name: Ty Cobb Museum
Contact Person: Leah McCall
Email: Send Email
Phone: 706-245-1825
Country: United States
Website: https://tycobbmuseum.org/