Enigma Continues Its Surge in the Film Industry, Nabbing over 150 Awards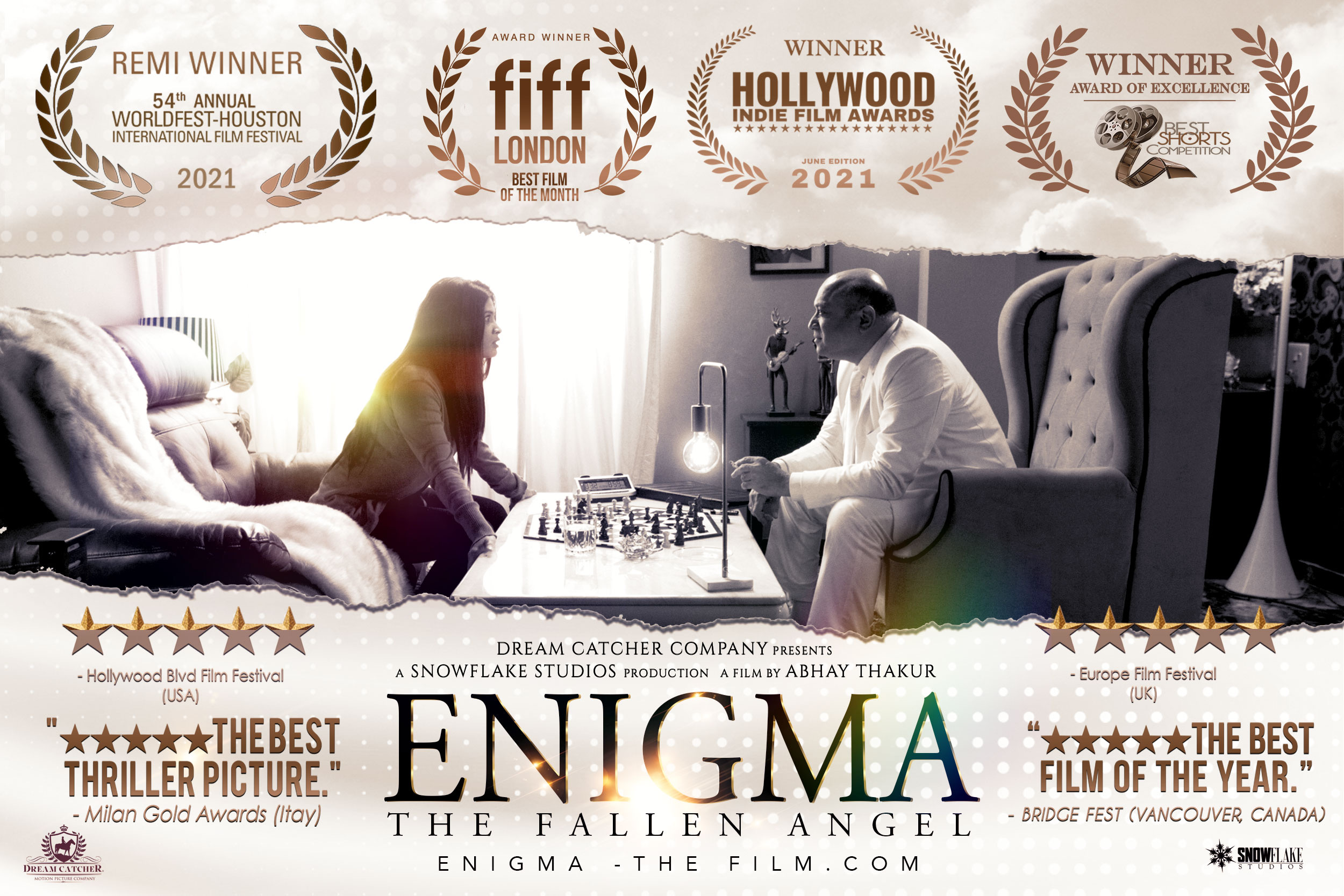 Director Abhay Thakur's Indian short film is in contention for an Oscar, the culminating award after one of the most successful runs in awards season history
Los Angeles, USA – December 9, 2021 – Enigma, Indian filmmaker Abhay Thakur's psychological thriller, is continuing its impressive showing at film festivals worldwide. To date, the short film has scooped up over 150 awards, making it the most successful endeavor in Indian film history.
Enigma is the creation of Thakur's production firm Dream Catcher Company. It premiered in February 2021 in Paris before taking worldwide festival screens by storm, including successful runs on screens across Tokyo and Los Angeles.
Since the film's release, Enigma has been met with critical acclaim and has intrigued audiences across the globe. To date, the film has earned over 150 awards, shattering expectations and records in the Indian film industry. Some of the most prestigious worldwide organizations the film has earned recent accolades from include Best Shorts Competition LA, HOLLYWOOD Indie Film Awards, Royal Society of Television & Motion Picture Awards (Kolkata, India), Berlin Indie Film Festival, Eastern Europe International Movie Awards, Toronto Film Channel Awards, and Masters of Cinema (Russia).
And the number of awards Enigma has taken home isn't just an Indian film industry record. Thakur and his team now find their short film in rarefied air in all of the film industry, situating it as one of the only films to win nearly every major film award. It comes as no surprise, then, that Enigma is now gunning for the most prestigious award of all—an Oscar. Earlier this year, the film earned its opportunity to be submitted for consideration for the prize, and Thakur and fellow film co-producer Snehal Thakur and co-writer Arjun Pradhan are keeping their hopes high that on the biggest night in film, they'll be walking away with a statuette in hand.
The short film stars Ruchita Jadhav as Richa Kapoor, Yatin Karyekar as Dr. Rajeev Menon, and Ananya Sengupta as Myra Singh. In a mere 35 minutes, the film takes readers through a web of intrigue and mystery while exploring some of life's most pressing and agonizing questions.
The film follows beautiful and wealthy Richa Kapoor as she visits a world-renowned psychiatrist for her regular therapy appointment. But unlike her previous appointments, something is different about her today. Richa shares with her doctor that she may have finally found a cure to her seemingly incurable, mysterious condition thanks to her new friend Myra Singh. Richa's 60-minute appointment unfolds before the audiences' eyes, enveloped in a tangled web of truth and lies, morality and immorality, as Richa seeks to free herself from the internal demons wreaking havoc on her life.
Enigma came to life after Thakur found himself intrigued by the foundational human experiences explored within the story.
"Enigma is a darkly beautiful tale that blurs the lines between the human and inhuman. At its core, the story is something humans can relate to on a visceral level—trying to find relief for our suffering and the ends we will go through to do that," said Abhay Thakur. "With this in mind, I wanted to bring this story to life while also promoting the possibilities of the Indian film industry. Given the incredible amount of recognition and support this film has received, I hope it inspires others in the industry to experiment and push the boundaries of what can be in storytelling."
To learn more about Enigma, visit https://enigma-thefilm.com/.
About Dream Catcher Company
Dream Catcher Company was founded in 2012 by Abhay Thakur. The visionary company seeks to revolutionize the way films are made in India. The team offers a full portfolio of professional production services, including pre-production, production, and post-production services. To learn more, visit https://enigma-thefilm.com/.
Media Contact
Company Name: Enigma – The Fallen Angel | Dream Catcher Production
Contact Person: Media Relations
Email: Send Email
City: Los Angeles
State: California
Country: United States
Website: https://enigma-thefilm.com