Narci Entertainment Partners with MayDay Entertainment to Host Holiday Community Donations.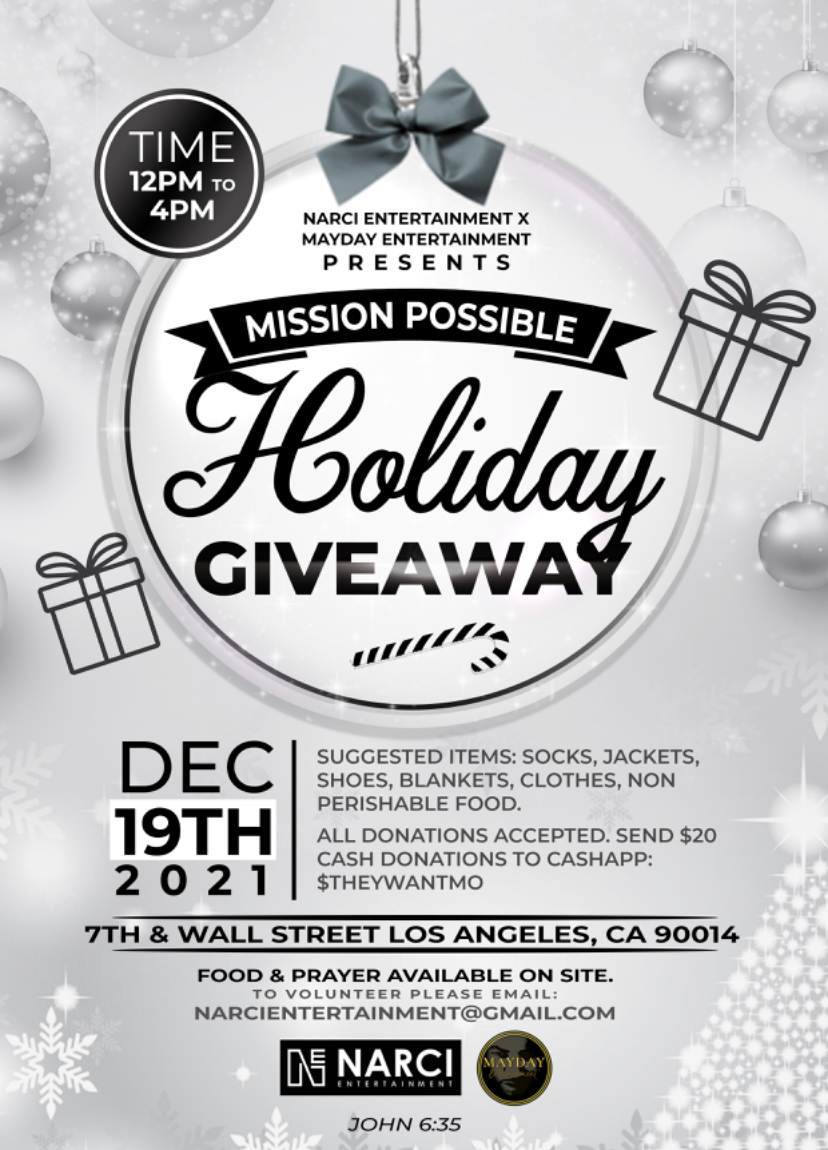 Narci Entertainment and MayDay Entertainment Give Back to the community
December 15, 2021 – It is that time of the year when you give to others and make sure that everyone is happy. It is the period to show love and affection. Love and affection should be more of action than words. This is the fundamental reason Narci Entertainment has decided to partner with MayDay Entertainment to give back to the community this holiday season.
The foremost aim of hosting this holiday donation event is to provide food and clothing to the homeless in the community. Both organizations understand how important this event will be to individuals living in the Downtown Los Angeles community.
The organizations have channeled their resources into providing all attendees with a hot delicious meal. That is not all; Every attendee will have access to bags to shop for free at the donation tables.
To effectively do all these, the brands are open to all forms of donations. Some of the items you can donate to achieve the event's purpose include clothes, jackets, shoes, socks, water bottles, drinks, and non-perishable food items. Giving out your clothes and other accessories to people in a less-privileged situation will aid personal growth and development. You will improve their self-esteem, livelihood and worth.
Donations can also come in monetary forms. Every dollar counts. For every $20 cash donations, you can send to $Theywantmo through the Cash app. Your monetary donation will go a long way in providing necessary services to the attendees. During the donation event, your money will be helpful to provide food and gift items to families and children in need. Apart from that, toys, books, and snacks can be of great help to kids.
Perhaps you do not have money, food, and clothing to donate; there is another way you can be of help. You can choose to volunteer. There are many ways you can be of service to the event. You can sponsor a family or assist in the operation of distribution.
You can volunteer to help in the kitchen, too. The distribution of gift items, food, and clothing can be pretty cumbersome. There will be the need for more hands to help in the distribution process, and your volunteerism will be of immense benefit. You can send your name and time slot to the email address below to volunteer.
If you are donating wears and other clothing accessories, ensure you wash and fold them properly if you can. We look forward to putting a smile on everyone's face through this holiday donation event.
About Narci Entertainment
Narci Entertainment is an entertainment company located in Los Angeles, California, United States of America. It is irrevocably committed to initiating events and programs that enforce a sense of belonging to every community through art and ministry. Through the holiday community donation event, it hopes to give back to the community and improve the living standard of the attendees.
About May Day Entertainment
May Day Ent is an organization that believes in the power of community outreach and holistic healing of the mind-body and soul through music and food. We cater to a diverse population of people, from entertainers to the homeless. The group is dedicated to providing a one-of-a-kind experience with each event we execute! and also employs members of our community. We are better together!
Media Contact
Company Name: Narci Entertainment
Contact Person: Media Relations
Email: Send Email
City: Los Angeles
State: CA
Country: United States
Website: https://www.fiverr.com/laurajonez/do-press-release-distribution