Truckers Can Now Easily Comply With IFTA Regulations With eTrucks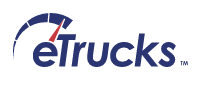 eTrucks is the most accurate and efficient trucking compliance tool that lets you create error-free compliance reports for IFTA, HUT, IRP and NY. The main objective of this solution is to help truckers reduce their paperwork related to mileage and fuel monitoring. Indeed, it is the best platform to save dozens of hours and get protection from hefty fines and penalties imposed due to non-compliance frequently.
eTrucks is one of the leading players in the transportation industry that provides you complete transparency in your costs and assets by ensuring fleet optimization. It comes with ELD integration that offers many telematics advantages that can improve operations considerably.
eTrucks is specially designed to meet the unique and demanding needs of IFTA and other compliance regulations. It saves your time by generating quick and accurate reports with a self-audit tool to ensure all your submissions are correct. This solution can also improve driver safety by monitoring the drivers' speed, habits, ignition and engine idling. The managers can also get alerts for hard braking and speeding and provide drivers feedback based on the safety scorecards generated by the solution.
"If you are looking for a solution that is easy to use, choose none other than eTrucks. It is one of the most efficient tools you will find in the market for all your compliance needs. All you need to do is enter your mileage and fuel data, and the software does the rest for you. I would definitely give it a 10 for its user-friendliness", reviewed by Nancy Hopper, J Hammond Transport.
Another remarkable feature of eTrucks is that it comes with highly accurate GPS, which provides you precise trip time and distance with no gaps in data. Additionally, it can eradicate the need of keeping manual IFTA records by letting you save all the IFTA data on cloud storage for six years at no extra cost.
The software is available in three different packages based on your needs, preferences and budget. Their IFTA compliance package is best suited for people concerned about IFTA compliance. The software comes with a 31 days free trial. There is yet another solution that covers GPS tracking and automated mileage along with IFTA compliance. The third package is for those who want to equip their trucks with ELD.
"Earlier, we used to outsource our fuel reporting, which turned out to be so expensive. We were looking for an affordable solution to help us in IFTA filing. Thanks to eTrucks that helped us save a lot of money on IFTA fuel tax. The program is very easy to understand, and now we don't have to wait for the quarter to end to get answers for fuel mileage and can get all the information by just logging into the software," reviewed by Mike Haese, Seven Oaks Specialized LLC.
With eTrucks, you can find missing mileages just by entering the start and end points of your trips. The program also lets you automatically convert different units of measures such as miles into kilometers or gallons into liters.
For more information on how to save from fines, penalties, and other unnecessary interest charges, please visit https://www.etrucks.com/.
About eTrucks
eTrucks is a new "arm" of Axon Software, which is a family-owned private company that has been around since 1982. They are one of the leading names in the sphere of specialized IFTA software and ELDs.
Media Contact
Company Name: ETrucks and Axon Development Corporation
Contact Person: Media Relations
Email: Send Email
Phone: (888) 575-8605
Address:15 Innovation Blvd #211
City: Saskatoon
State: Saskatchewan, S7N 2X8
Country: Canada
Website: https://www.etrucks.com/