Rock2More Calls for Crowdfunders and Crowdfunding Platforms to Do Better for The Backers
RENO – December 22, 2021 – In 2019, Coffeejack launched a crowdfunding campaign for a portable espresso maker and raised $1,758,360 USD on Kickstarter and Indiegogo, later failing to deliver the product to backers. The comments from backers on Facebook, Kickstarters, and Indiegogo are all about feeling fooled. People are also asking for refunds even though it's proven useless. When some backers started to investigate Coffeejack, they found that Coffeejack had copied the idea from a different espresso maker.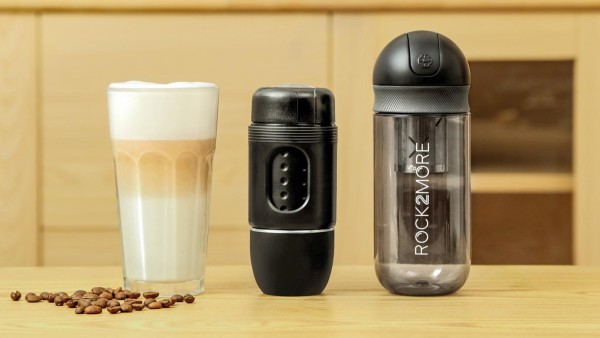 Based on research, it's obvious that the whole Coffeejack unit looks very similar to STARESSO. What's interesting is that Raymond Lee and his STARESSO team started to develop the portable espresso maker with a hydraulic system in 2013. They launched the first generation in 2014, and won the Red-dot design award with their 2nd generation in 2016.
How can a campaign like Coffejack raise so much money from crowdfunding? People might remember similar campaigns like Juisir and Rite press… There was no actual R&D done to back the product, only a fake idea. No delivery means no cost to the company at all. All they need to do is pay for the advertising to raise the money.
When a company makes an innovative product, they usually put their all into coming up with the perfect design that functions optimally. A founder's dream of eventually launching this product publicly can quickly turn into a nightmare when they realize that their innovative design has been copied. It's even worse when the copycat company collects money from backers without delivering any actual products, bringing the reputation of the original designer into question.
Raymond Lee and his team were excited to launch ROCK2MORE and STARESSO MINI (their upgraded espresso maker and capsule frother combo) on Kickstarter in 2021. Their excitement was short-lived because people soon started asking whether their espresso maker was a copied idea from Coffeejack. When they found out what Coffeejack had done, they were both disappointed and frustrated.
Raymond Lee and his team actually started selling their 2nd generation of STARESSO on Amazon in 2016. Unfortunately, they soon started getting feedback that the screw part of their product was too tight for users, especially ladies, to open their espresso makers. The honest team decided to send replacement parts to thousands of customers all over the world. This decision cost them over $100,000, a huge cost for a start-up. At the same time, Raymond Lee had to give up the IDEA design award when he received the notice from IDSA. After paying to ship these replacement parts, he just didn't have extra money to pay for his honour equity.
Raymond Lee and his team might not be as good at marketing as crowdfunders like Coffeejack, Juisir and Rite Press. Nevertheless, they are honest to themselves and their backers. Raymond Lee is a good designer and winner of Red-dot design award in 2016 & 2021, as well as the IF design award in 2018. He is also a barista certificated by SCA (Specialty Coffee Association). With a love for design and coffee, he keeps studying and doing research in this field. In this way, he keeps upgrading STARESSO, and developing relevant gadgets like ROCK2MORE, the first capsule style shaking frother in the world.
When Raymond and his team brought ROCK2MORE and STARESSO MINI to Kickstarter, they were affected by bad press from Coffeejack. However, Raymond Lee decided that it was still good to show their innovation on the crowdfunding platform. At least by standing up for their product, they could do something to prevent the copycat from fooling backers.
The team at STARESSO and ROCK2MORE is appealing to brands to be more honest and crowdfunding platforms to be more vigilant to reduce future instances of scams.
About ROCK2MORE x STARESSO
ROCK2MORE and STARESSO have partnered to launch a capsule frother and espresso maker combo. ROCK2MORE designed the first capsule style shaking frother in the world. They combined it with STARESSO MINI, the first espresso maker that has a hydraulic system and fulfills the Gold Cup standards for extraction. Thanks to the ROCK2MORE x STARESSO combo, coffee lovers can make quality coffee without huge machines.
Media Contact
Company Name: ROCK2MORE
Contact Person: Raymond Lee
Email: Send Email
Country: United States
Website: https://www.rock2more.com/