Chopstick and Chocolate: A Love Story Bridging Time and Cultures, by Edward Lumsdaine and Monika Lumsdaine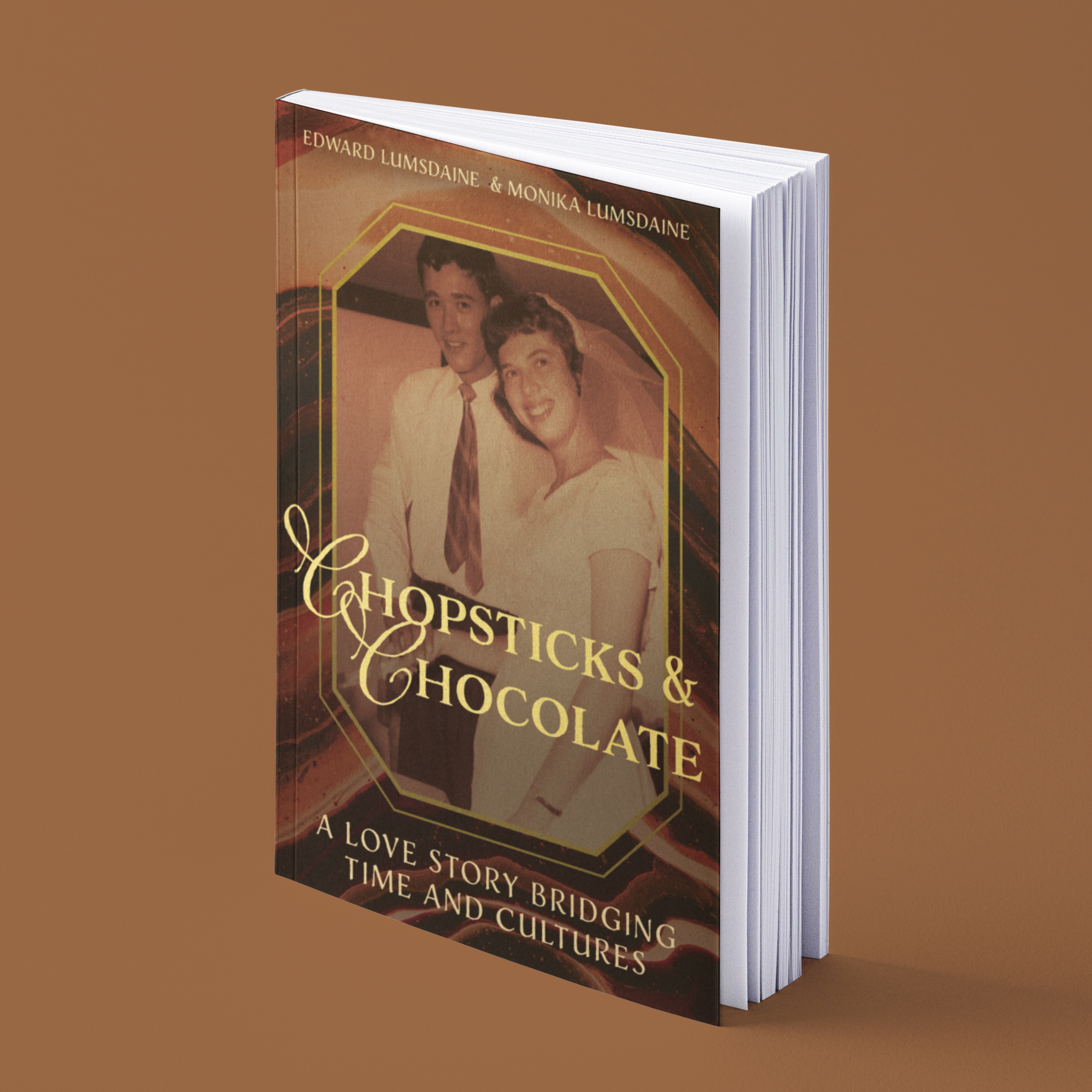 Kharis Publishing today announces the release of "Chopstick and Chocolate: A Love Story Bridging Time and Cultures" (ISBN: 978-1637460788) by Edward Lumsdaine and Monika Lumsdaine, a life-long faithful journey of a biracial and bicultural couple under God's hands.
CHICAGO, Ill. – This is a memoir about a marriage that bridged time, distance, and the serious cultural differences of a young biracial couple. Having met through an incredible set of circumstances — going back to their parents in the 1930s and living through the years of World War II — Edward and Monika want their children and grandchildren to know their love story, lest they forget their origins during this century's wild cultural changes. Above all, it is a story of God acting behind the happenings in their lives, as they learned to understand and trust His love, faithfulness, and the process of recovery from gambling addiction.
According to Albert Ebenezer, MD Retired Oncologist, "Knoxville TN, East meets West in this unlikely love story of two people who were pursuing the American Dream. Their love for learning draws them from China (Chopsticks) & Switzerland (Chocolate) to Ventura, California. We get a glimpse of the unseen hand of God orchestrating their lives throughout the book using individuals to help navigate their lives in a new culture. Their deep love for each other & commitment to God triumphs. It encourages the reader to trust God's overarching plan for each individual through the twists & turns of everyday life."
Video Link: https://www.youtube.com/embed/A3NGuJ3Vomw
Chopstick and Chocolate is published by Kharis Publishing and is now available wherever books are sold, including Amazon: https://www.amazon.com//dp/1637460783/. Retailers and other agencies may order copies from Ingram Content Group or through the publisher (ISBN: 978-1637460788): CHOPSTICK AND CHOCOLATE – Kharis Publishing
Edward Lumsdaine grew up in Shanghai during the war years with an American father and a Chinese mother. He worked his way to the US on a Danish tramp steamer, followed by four years in the US Air Force. He earned his doctorate in mechanical engineering, then advanced from professor to Dean of Engineering in several universities. Edward taught and directed research in solar energy, engineering design, and entrepreneurship before retiring in Tennessee, where he now plays Appalachian music.
Monika Lumsdaine came to the US to study math as an exchange student, sponsored by a Rotary family. As an avid learner, she constantly found new ways to challenge herself which included getting her pilot's license in both Switzerland and America. At the end of their freshman year, Monika and Edward were married. The couple raised four talented children, while simultaneously continuing their studies. Since then, Monika has worked on a variety of projects, including designing passive solar homes — one going on to win a national award.
Her consulting work involved creative problem solving and whole-brain team development. Now, she loves to photograph Smoky Mountain wildflowers.
About Kharis Publishing:
Kharis Publishing, an imprint of Kharis Media LLC, is a leading Christian and inspirational book publisher based in Aurora, Chicago metropolitan area, Illinois. Kharis' dual mission is to give voice to under-represented writers (including women and first-time authors) and equip orphans in developing countries with literacy tools. That is why, for each book sold, the publisher channels some of the proceeds into providing books and computers for orphanages in developing countries, so that these kids may learn to read, dream, and grow. For a limited time, Kharis Publishing is accepting unsolicited queries for nonfiction (Christian, self-help, memoirs, business, health, and wellness) from qualified leaders, professionals, pastors, and ministers.
Learn more at: About Us – Kharis Publishing – Accepting Manuscript
Media Contact
Company Name: Kharis Media LLC
Contact Person: Rufus Philip
Email: Send Email
Phone: (630) 423-6309
City: Aurora, Chicago
State: IL
Country: United States
Website: https://kharispublishing.com/kp/