KryptoGO Inc.: the First Blockchain Company Received Both ISO/IEO 27001 & 27701 Certifications
With the high standard of information security and privacy protection, KryptoGO has started to build a more secure and transparent environment in Blockchain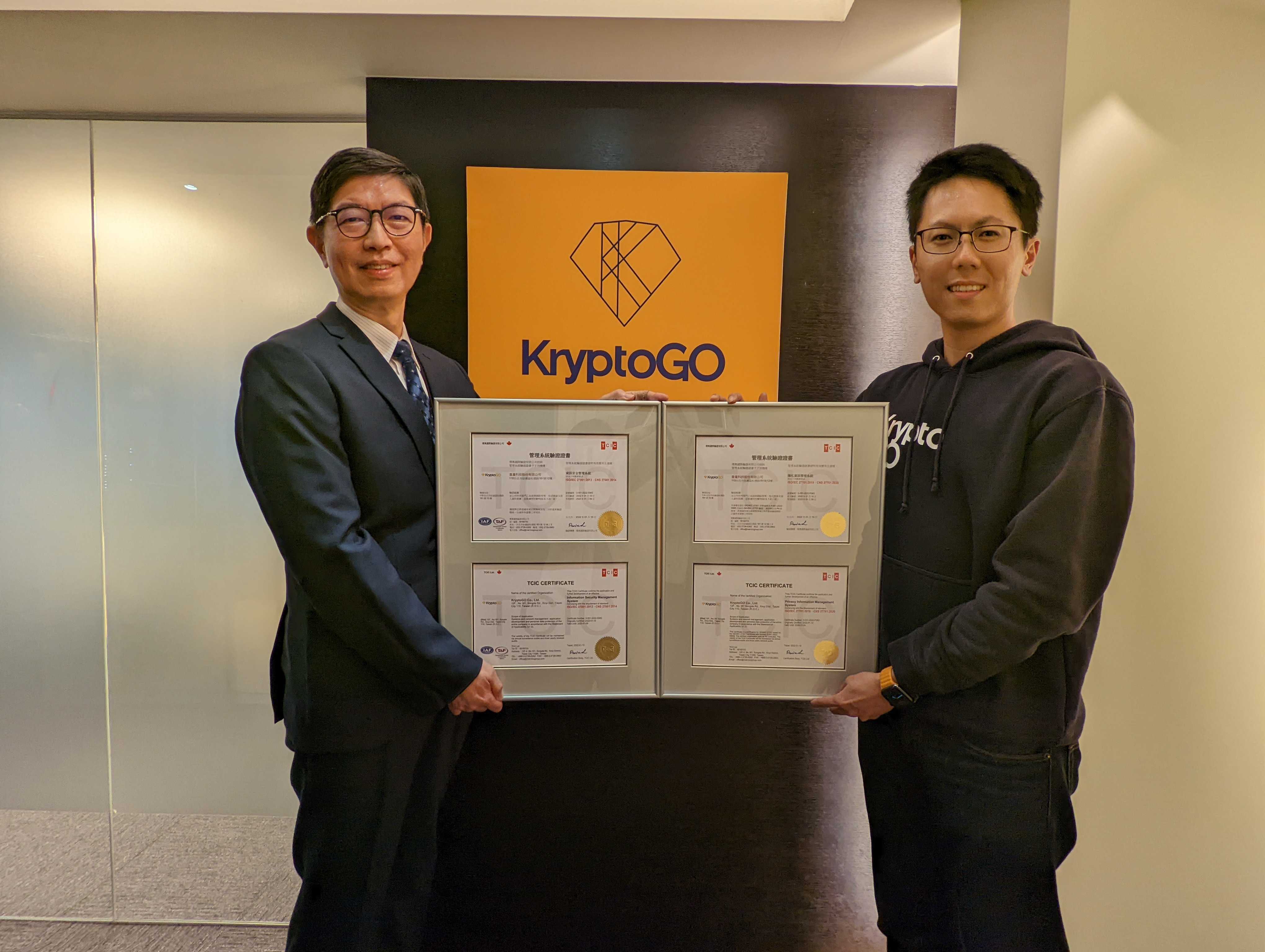 TAIPEI – May 10, 2022 – According to the well-known blockchain analysis company, Chainalysis, crypto-related scams caused 7.7 billion lost in 2021, which was an 81% increase from 2020. Early this year, Discord, the most popular social platform among crypto communities, was attacked by hackers who pretended to be official staff and made fake announcements on Discord servers. This misled members into clicking the phishing links and caused their money to be stolen. Therefore, KryptoGO Inc. ("KryptoGO" or "the Company"), a RegTech company, is devoted to establishing a more secure and transparent environment for crypto applications. Being the first blockchain company to receive both ISO/IEC 27001 and 27701 information certifications prevents users from living in fear of data breaches and hacking.
Along with many countries paying more attention to privacy and information security, such as GDPR from the EU, ISO 27001 and 27701 information certifications have become an essential benchmark for enterprises that want to adopt data protection proactively. The cautious procedure and strict data storage technique of ISO can highly decrease the possibility of cyber-attacks and data breaches by human or non-human error. Hence, to provide the most secure and low-risk products, including KryptoGO Compliance and KryptoGO Wallet, to partners and users, KryptoGO received both ISO information certifications within three months once in a blue moon.
Kordan Ou, CEO of KryptoGO, stated, "the breach of personal information and financial assets becomes a serious issue due to the surge of crypto scams, money laundering and phishing attacks lately. KryptoGO has complied with international regulations of mainstream information management and privacy protection. By passing ISO certifications, KryptoGO can guarantee to protect clients' personal data and financial assets with confidentiality, completeness and accessibility."
The scope of ISO 27001 information certification KryptoGO received this time covers all the systems, internet management, program development and all the existing procedures. Not only employees' knowledge of information security but also the design, research, development and deployment of two main products, KryptoGO Compliance and KryptoGO Wallet, all meet the standard requirements. Moreover, ISO 27701 certification enhances the system of privacy protection including the screening process of KryptoGO Compliance, audit log and ID verification, etc.
As the expert of risk screening in the Blockchain industry, KryptoGO becomes the first company that received both ISO certifications at the same time and starts to establish a worry-free ecosystem for users, before competitors haven't paid any attention to information and privacy protection. Therefore, KryptoGO has not only two CAMS (Certified Anti-Money Laundering Specialist) but also three ISMS (Information Security Management System) lead auditors. Through the authentication from the third-party security audits, KryptoGO proves its determination on information security and privacy protection by directly auditing its daily business. KryptoGO looks forward to seeing more partners join the journey and build a trustworthy ecosystem together.
Media Contact
Company Name: KryptoGO Inc
Contact Person: Am Chen
Email: Send Email
Address:12F., No. 161, Songde Rd., Xinyi Dist.
City: Taipei City 110
Country: Taiwan
Website: https://kryptogo.com/