Morris County Tile Store Uses Augmented Reality To Help Homeowners Choose Materials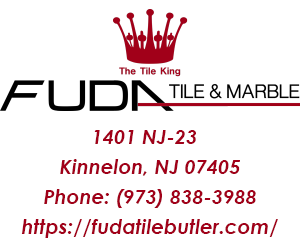 Now when you need to know if a certain tile or stone project is going to look good in you home – look no further than your cellphone. Websites like FudaTileButler.com have begun to employ technology to take the guess-work out of visualizing a new tile installation. Using a technology called Augmented Reality – a user simply takes a photo of the area in question – chooses a tile/stone material from the Morris County Tile Shop's website and voila – instant visualization of the tile installation. The augmented reality website component was facilitated by Qualis Ceramica, a tile distributor Fuda Tile & Marble of Butler NJ has enjoyed a long term business relationship with. The user quickly gets feedback, can choose different materials and has the ability to vary colors and installation directions to fully conceptualize if the tile selection looks correct for the area.
Augmented reality's value is the manner in which components of the digital (computer) world blend into a user's perception of the real world. These immersive sensations are perceived as natural parts of an environment. Augmented Reality (AR) Systems first appeared in the U.S. Air Force's Armstrong Laboratory in 1992. Commercial augmented reality experiences were first introduced in entertainment businesses. Subsequently, AR applications have found commercial usage in education, medicine, and entertainment.
Fuda Tile is no stranger to technology – though the company has been around for over 50 years. Started by Joseph Fuda, dubbed the "Tile King" – he started from humble beginnings (Ridgefield NJ) but provided the foundation for the family business to have 5 tile stores across the state of New Jersey. Joseph Fuda was indeed a pioneer in the businesses – often introducing new materials and products for installation in homes in New Jersey. The five tile stores serve as showrooms to display the company's directly imported marble, granite & porcelain offerings – they also boasts an on-site factory for countertop fabrication.
The third generation of Joseph Fuda's sons, daughters and grandchildren continue to carry on the family tradition of tile, granite & countertops well beyond its 50th year in business. With a full inventory of selections & indoor slab yard – you won't have to wait for your materials to arrive – and they have designers & installation recommendations available to work with homeowners for optimal results.
Fuda Tile & Marble Of Butler
1401 NJ-23
Kinnelon, NJ 07405
(973)838-3988
https://maps.google.com/?cid=12069979304358698395
Video Link: https://www.google.com/maps/embed?pb=!1m14!1m8!1m3!1d12045.275375089486!2d-74.352604!3d40.996394!3m2!1i1024!2i768!4f13.1!3m3!1m2!1s0x0%3A0xa7812e3a529ddd9b!2sFuda%20Tile%20%26%20Marble%20of%20Butler!5e0!3m2!1sen!2sus!4v1652316061754!5m2!1sen!2sus
Media Contact
Company Name: Fuda Tile & Marble of Butler
Email: Send Email
Phone: (973) 838-3988
Address:1401 NJ-23
City: Kinnelon
State: NJ
Country: United States
Website: https://fudatilebutler.com/