Next-Gen Offline Data Encryption and Storage App FrostByte Announces its Beta Launch

Boulder, Colorado – May 12, 2022 – FrostByte, the first self-sovereign data encryption solution that unifies the features of crypto hardware wallets, third-party custodians, and password managers; is pleased to announce the launch of its Beta application for iOS and Android.
The launch of the FrostByte Beta represents a key milestone in the application's development, inviting users for the first time to try the unique features of the FrostByte app ahead of its official launch and an initial decentralized offering in Q2 2022.
Frostbyte empowers individuals and organizations to safeguard their data with robust, enterprise-grade security. Encrypted data is securely stored offline in your device's cache and/or hardware memory, separate from the electronic data, identity credentials, and vault key, and is accessible only within the app.
Potential beta testers will now be able to register their interest for the app, with applications particularly welcomed from those with power-user grade security requirements and data protection needs (e.g. data managers for organizations or crypto-natives looking to protect their digital assets).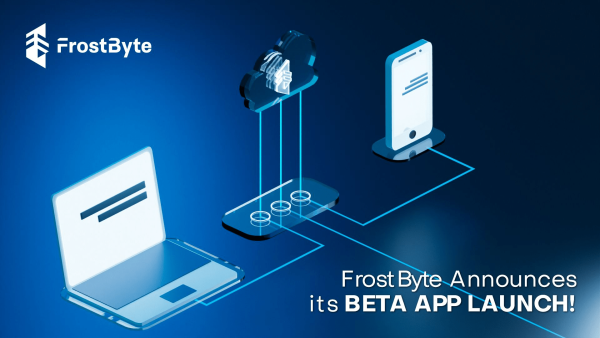 During the close Beta phase, premium-tier features will be free for all participants. Premium membership enables enhanced backup and vault features, military-grade security, planned YubiKey integrations in future iterations, and sharded backups.
Saul Schwartzbach, co-founder and CEO of FrostByte, says:
"We're excited to welcome the first users to the FrostByte app through the launch of our Beta program. We have been developing FrostByte for a number of years now, carefully building out military-grade security for digital assets and any other type of data. We are now at a point where our solution solves many of the pain points and challenges of secure data storage, and our Beta program will be an important validation phase for the components we have deployed."
FrostByte welcomes Beta users of all skill levels to apply for the Beta program here. Successful applicants will be informed via email and asked to complete a short feedback form once the Beta ends.
Find out more using the links below:
• Twitter – https://www.twitter.com/frostbyteapp
• Discord – https://discord.gg/frostbyte
• Telegram – https://t.me/frostbyte_announcements
About FrostByte:
FrostByte puts military-grade encryption at users' fingertips with a flexible user-defined governance framework so anyone can safeguard their data using their own preferences and authorized persons. Through FrostByte, users and institutions never need to rely on cloud storage or third-party custodians again. With apps for iOS and Android, FrostByte sets a new standard for security and delivers true self-sovereign data management in a user-friendly, mobile-first experience.
Video Link: https://www.youtube.com/embed/3j0jBYjgAFo
Legal Disclaimer:
The above article is intended for informational purposes only, and is presented by FrostByte Technology OU (an Estonian company, which is an affiliate of FrostByte Inc., a Delaware entity that is the owner and developer of the FrostByte app). The above article is not an offer or invitation to buy FROST tokens and does not constitute financial advice. You are advised to do your own independent research and take the relevant professional advice.
Media Contact
Company Name: FrostByte Inc.
Contact Person: Saul Schwartzbach
Email: Send Email
Country: United States
Website: https://www.frostbyte.app