Where to find a perfect dress for prom?
Recently, prom becomes more and more important for students, it is one of their big days during the whole life. Early spring in March, Lucia from news Milano interviewed Richard, the manager of Azazei. Azazei is a new fashion online store which grows very fast. Richard said that they are an online dress store that sells more than 1000+ styles of dresses. In the summer of 2022, Charmeuse split mermaid prom dress is more popular. Lace, sequins, split, etc. are all elements that are used more in recent dresses.
At the same time, they also interviewed their designer Doris, and Doris gave the following suggestions on how to choose the right dress.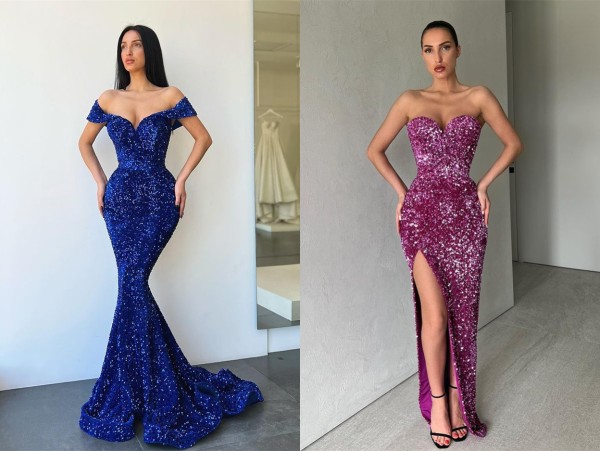 1. According to body type
Plump women should opt for some slim fit with straight lines. A V-neck, paired with some fluffy princess styles, are all good choices. Avoid styles with high necks or skirts that are too big or too embellished.
Thin women should choose multi-layered or tightened chest styles, and the length should not be too long. High necks, long sleeves or styles with lace will do.
Ladies with flat chests can choose some styles with more complicated upper body decoration, tighten the waist, and dresses with simple lines will be a good choice.
For petite ladies, pleated gauze skirts with a mid-to-high waist are more suitable. Avoid styles with large puff sleeves or large ruffles. The princess style of layered tulle + tutu is the best choice.
2. According to skin tone
Ivory, pink, pink-orange and pink-green are suitable for people with yellow skin, but avoid white and pink-blue and pink-purple. Those with darker skin should opt for some brighter colors. Fair-skinned people are suitable for almost all colors.
3. By style
The A-line shape will make people look taller, the skirt is suitable for more solemn and gorgeous occasions, the knee-length skirt will make people look cute, and the fishtail skirt is a classic style, which can highlight the female figure as a whole.
Richard also said in the interview that AZAZEI has the most advanced clothing production equipment and experienced workers, and is committed to building a first-class dresses online store. Various colors and styles, cheap price, fast delivery, and experienced customer service make their stores more and more competitive among similar stores.
Media Contact
Company Name: Azazei
Contact Person: Chloe
Email: Send Email
Country: United States
Website: www.azazei.com