The Legendary Dean Fraser premieres new instrumental album Flat Bridge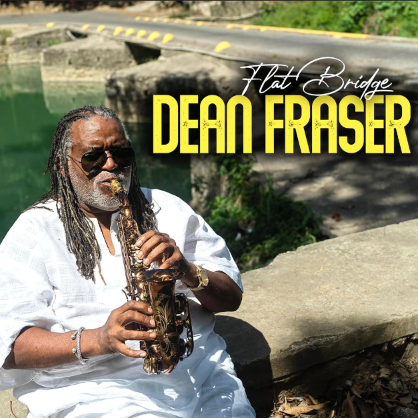 Deann Fraser prepares to thrill the world of music with his renown talents, in a stunning instrumental album titled Flat Bridge. As an ode to the well known Jamaican bridge, and Jamaican culture itself, this thirteen track masterpiece is slated for release June 04, 2021. As his first solo effort, Dean has ensured musical delight on this project with tracks like the self titled Flat Bridge. This instrumental album is the first of its kind in a long time, promises to be a journey into the past and present Jamaican soundscape, with the smooth elegant stylings of Jamaica's greatest saxophonist.
As a master saxophone player, Dean provides the sonic protagonist in these musical stories which are backed by local ensembles. The quality of these songs are superseded only by the time and effort put into the live jams, recording and the editing process that polishes the core concept present in each. With the way music making has been democratized by technology, collaboration amongst different talents has become more unlikely. Yet here comes one of our most treasured musical elders with a reminder that the essential nature of music is communal. Featuring people like Andre 'Singy' March and Okiel Mcintyre, Frazer doesn't hold back in his commitment to producing the best version of each song.
During the earlier periods of music, between the 60s and 80s musicians used to release compilation albums a lot more frequently. In fact, it was a great contributor to the quality of the music which was more instrumental in nature as a result. Dean was a major player in the cultivation of our sound during the 70s through to present day. His musical credits are exhaustive, from Dennis Brown, Sly and Robbie, Bob Marley and even more recently the likes of Tarrus Riley and Beres Hammond. Dean is a living legend, and this album is a product of that legendary heritage and musical wealth that only a stalwart can possess.
Flat Bridge is an outstanding body of work that is sure to bring back much of the instrumental nature of Jamaican music, and inspire another generation of musicians to come. This new instrumental project by Dean is likely to reignite the trend in music where musicians compile and sell their signature sounds. In many ways, this body of work will greatly add value to the archive of Jamaican music and therefore make evolving the sound much more accessible to outside parties who often sample our sound. The entire album was recorded in the Tad's International Recording Studio in Kingston, Jamaica. Produced by Dean Fraser and Tad 'Junior Tads' Dawkins.
Track Listing
Cassia Park
Anjara
Flat Bridge
I Command You featuring Andre 'Stringy' Marsh
Pandemic
This is Happiness
Hope Road
Just Cause
Love Me
Nihla
Over You
Pindaz Valley
Zah Zah featuring Okiel McIntyre
Media Contact
Company Name: Destine Media
Contact Person: Ronnie Tomlinson
Email: Send Email
Phone: 3474978874
Country: United States
Website: www.destinemediapr.com