Masked Persona Marc Nevermind, Believes Wearing a Mask Takes the Focus Off Himself and On His Music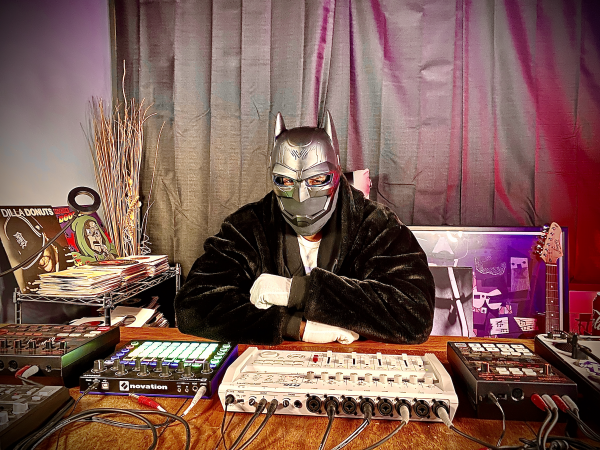 Masked musician Marc Nevermind creates a buzz as a mysterious persona. From a garage music producer to an Instagram celebrity, this Chicago born musician decided to let people see him for his music, hence the mask. As a dedicated artist, Marc has gained this incredible crowd of fans purely through regular Instagram lives and oral testimonials.
The 'Soulful Noize moniker' got his inspiration from his roots growing up on the Southside of Chicago. Marc was introduced to House Music at a young age which later made its way into his blend of music. But it was his exposure to Kraftwerk that completely changed the way he looked at music. Electronic music led Nevermind to his signature soulful electronic music.
"My music is the center of my world. Once I get the vibe going, I can't stop. It's an intense feeling, fusing the rhythm and beats in an underground groove that makes the dance floor shake and people move. It's a very spiritual evolution for me — one that I take very seriously", says Nevermind.
So, why the mask? People have wondered why the dance-oriented futuristic music producer would choose to conceal his identity. Marc says that this simply isn't another publicity stunt but rather something he needed to do. In a world that is so visual focused, Marc wanted his music to stand out rather than himself.
"I wanted to get online and have the focus be on the music without people thinking about the normal things people think about. Like girls saying, 'Oh, he's sexy,' or 'I don't want him, he's ugly. And then have other dudes size you up. A visual always brings a first impression. But if there's going to be the first impression, I might as well use it to control the story. So why not do something like throwing a mask on?", says the man behind the mask, Marc Nevermind.
Marc purposefully chose the surname Nevermind to throw off any attention from himself and show that he has no regard for physical appearances. With his mask on, he is free to be diverse with his choices and tell a hundred different stories through his music. With Marc, is not about the man, it's all about the music.
Around fifteen years ago, Nevermind released a project, 'Allure', that would become the hottest track that summer. His music career has been full of adventure, as he continues to release smooth electronica beats for his fans all over the world. His latest single, "What Is Art?", is set to hit the charts this summer.
Today, Marc Nevermind has a steady following of over 7,500 fans and followers on Instagram. The numbers grew as Marc showcased his music more frequently online during the pandemic. His passion to create unique music was much appreciated, and it turned both viewers and followers into loyal fans.
As his fame continues to go, Marc believes his roots will remain in House Music. The undying genre will live on because people will always need the means to express themselves, and that is why he loves it.
"I get a spiritual vibe from what I do. With the right beat, the right flow, I get a hypnotic feeling from the music I produce. I could be doing something more commercial, but then it wouldn't be true", says musician and producer, Marc Nevermind.
Marc Nevermind may be a mystery but it is no hidden fact that he is an extremely talented artist. He continues to work hard towards his goals while interacting with fans at every chance he gets. Stay tuned to his Instagram account to see what the masked musician is up to.
For more information, please visit: https://www.instagram.com/marc.nevermind/
Media Contact
Company Name: YkoTrax Records
Contact Person: Veronica Galindo
Email: Send Email
Country: United States
Website: https://www.instagram.com/marc.nevermind/