Lisnor Launches a Saffron Liquid Detergent in the United Arab Emirates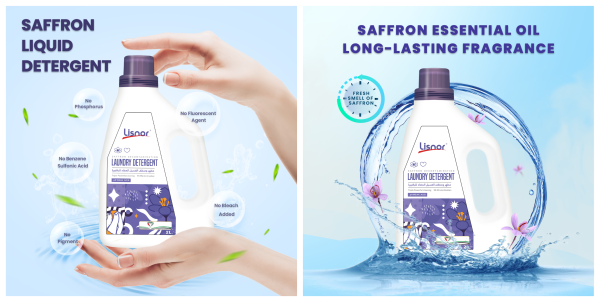 Lisnor is a brand that is known for offering high-quality essential oils to the market for the past few years. However, the roots of Lisnor lie in a family business, which has been using traditional methods to extract pure essential oils for hundreds of years. Saffron essential oil extracted by them holds a prominent place.
In recent years, Lisnor started expanding its product lineup. Among newly introduced products to the lineup, Lisnor Saffron Liquid Detergent holds a prominent place. This liquid detergent could become a top-selling product within a short period of being launched to the market. Numerous factors contributed to the popularity of the product. Out of those factors, effective stain removal capabilities hold a prominent place.
People who are in the United Arab Emirates, and who look for a quality liquid detergent will be able to get their hands on Lisnor Saffron Detergent Liquid now. The product was officially introduced to the UAE by Hai Tai Yang International Trading FZE, which is the official distributor for the Middle East. The product will soon be available for purchase on leading retail networks and some of the online retail platforms, such as Noon, Amazon, SharafDG, carrefourUAE, and lisnor.com official websites. Purchasing the liquid detergent will be effortless, and it can deliver the best possible experience to anyone with washing clothes.
Lisnor is currently working on launching a 3-liter bottle of natural saffron liquid detergent. The same product will be available in the UAE soon after its release as well. Moreover, the brand is currently working on launching a sensitive and extra-gentle detergent liquid, which can be used on baby clothes. This liquid detergent would be a fragrance-free product. As a result, you will be able to go ahead and use it on baby clothing without keeping any second thoughts in mind.
The Lisnor Saffron Liquid Detergent is approved by Emirates Authority for Standardization and Metrology (ESMA) and holds the Emirates Conformity Assessment Scheme (ECAS) certificate.
As a brand that strives to ensure innovation, Lisnor will soon offer 3 in 1 Washing Pods with natural saffron extract as well. People in the UAE can keep their hopes high about this product as well. All these products are supposed to make life easy for anyone in the UAE, who is willing to buy high-quality natural saffron liquid detergents.
Facebook: https://www.facebook.com/LisnorOfficial/
Instagram: https://www.instagram.com/LisnorOfficial/
Twitter: https://www.twitter.com/LisnorOfficial/
Linkedin: https://www.linkedin.com/company/lisnor/
Media Contact
Company Name: Lisnor International FZE
Email: Send Email
Phone: +971 50 956 5599
Country: United Arab Emirates
Website: https://lisnor.com/