Philanthropy is also a Utility in NFTs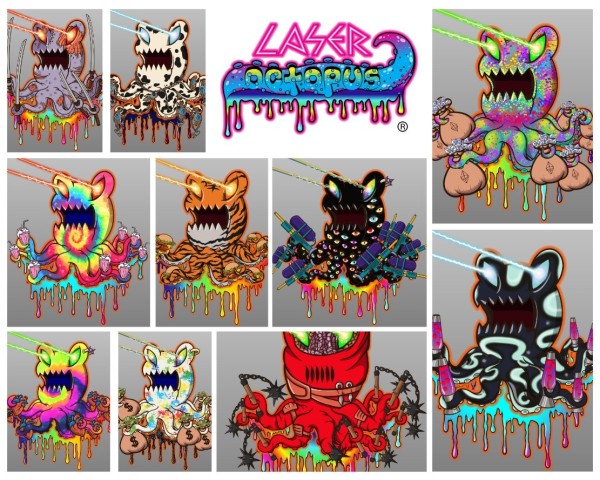 Non-Fungible Tokens (NFTs) are a tool for 'everyone' and about to be introduced into everyday living. In short, an NFT is designed as an online (non tamperable) contract that is both permanent and transparent, with most being part of the Ethereum (ETH) blockchain. In turn, the Ethereum blockchain is a core component of the "Web3", a catch-all term for the vision of a new, better internet. At its core, Web3 uses blockchains, cryptocurrencies, and NFTs to give power back to the users in the form of ownership and authenticity.
The true test of the NFT potential lies in what is referred to as functionality known as a 'Utility', meaning what its purpose is and used for. One day, this groundbreaking technology will allow for a more efficient, safe, and personalized way of doing business and even your vehicle registration, driver's license, and birth certificates will more than likely reside on this platform.
This is where the Laser Octopus Club NFTs came in:
The Laser Octopus Club is a limited collection of 8,500 unique Laser Octopus Club NFTs – digital collectibles on the Ethereum blockchain based on the Laser Octopus™ brand. These powerful yet adorable galactic creatures are invading the Earth and getting their slimy tentacles on anything cool and yummy they can find!
Laser Octopus are passionate about giving back to the community.
When minting a Laser Octopus Club NFT, individuals are helping the sustainability of our oceans and the recovery of childhood abuse and trauma.
More than 70% of the surface of our globe is covered by the Ocean. Without it, humanity cannot survive, much like the sun. By purchasing a Laser Octopus Club NFT, it means agreeing to the Laser Octopus Club's pledge to donate 10% of all first Laser Octopus Club NFT sales earnings to organizations working to protect and preserve the world's oceans.
Laser Octopus recognizes that a healthy community starts with healthy children. Children are suffering from a hidden epidemic of child abuse; these might include neglect, abandonment, sexual abuse, emotional abuse, psychological and physical abuse, witnessing abuse of a sibling or parent, or having a mentally ill parent. At least 1 in 7 children are believed to have experienced child abuse and/or neglect in the past year, and this is likely an underestimate. In 2019, approximately 1,840 children died of abuse and neglect in the United States.
Every year 3.3 million reports of child abuse are made in the US alone not including unreported and other forms of neglect, psychological and/or emotional abuse. By purchasing a Laser Octopus Club NFT, Laser Octopus Club are also committed to donating another 10% of all initial Laser Octopus Club NFTs sales profits to charities dedicated to helping people who are victims of childhood abuse and trauma.
Laser Octopus are 100% transparent and will make these donations public via our official website, Twitter, Instagram and our Discord channel upon selling out all NFTs.
The Laser Octopus Club NFTs are designed in Italy and have 75 different traits. These NFTs are distinct from other projects thanks in part to their transmutation skin patterns, which may take the form of ninjas, zombies, reptiles, animals, cyborgs, thermal vision, galaxies and more with many characteristics. The floor price for one Laser Octopus Club NFTs is 0.1 ETH. The minting site will be live Sept 18, 2022 and Minting at 11pm ET.
Instagram page: https://www.instagram.com/laseroctopusclub/
Twitter page: https://twitter.com/LaserNfts
Discord page: https://discord.com/invite/a5eT9xJtHZ
Media Contact
Company Name: Laseroctopusclub
Contact Person: Media Relations
Email: Send Email
Country: United States
Website: https://laseroctopusclub.com/