Ghibli Fall Music Festival Will be Held on October 9 With South Korea's First Large-Scale Choir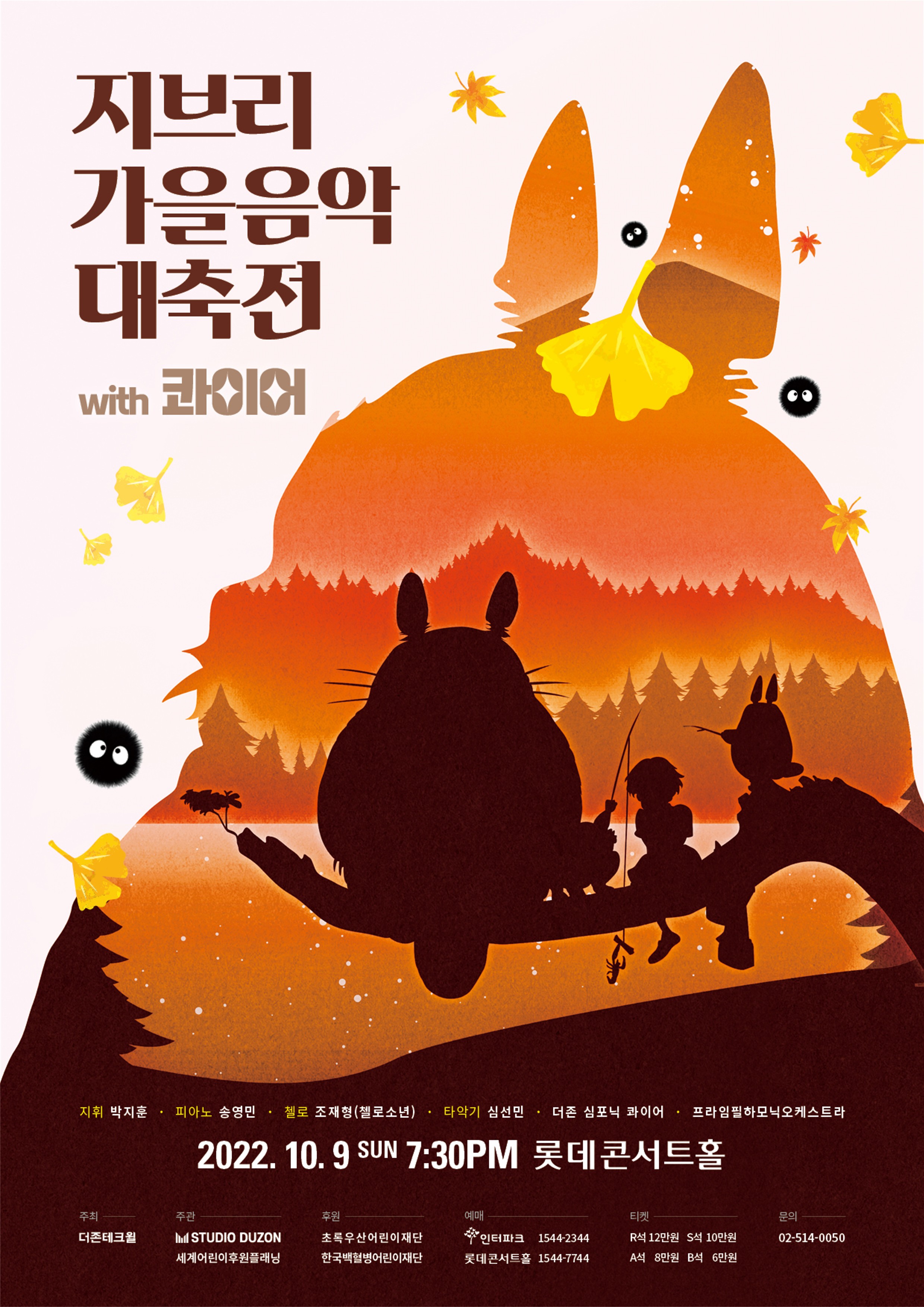 Ghibli Fall Music Festival to be held at Lotte Concert Hall in Jamsil, Seoul on Sunday, October 9 this year. Together with the Duzon Symphonic Choir & Prime Philharmonic Orchestra, there will be visual and auditory pleasure to reproduce the emotion of Ghibli 25th anniversary concert with South Korea's first large-scale choir.
The Ghibli Fall Music Festival will be held on Sunday, October 9 at 7:30 PM at Jamsil Lotte Concert Hall, Seoul. It shall be hosted by Studio Duzon.
Studio Ghibli's masterpieces such as 'My Neighbor Totoro' and 'Spirited Away' shall be the first to be witnessed in South Korea and shall be performed by a large-scale orchestra and the Duzon Symphonic Choir to celebrate the autumn night.
The Ghibli Music Festival started with the Lotte Concert Hall performance in April this year and was held at the Seoul Arts Center in July. It was a performance that gave Ghibli fans the pleasure of listening and viewing a special performance.
The upcoming October performance will be led by conductor Ji-hoon Park, Song Yong Min (Piano), Jo Jae Hyung (Cello boy), Sunmin Shim (Percussion), Prime Philharmonic Orchestra, and the Duzon Symphonic Choir.
They shall perform famous Ghibli's songs such as 'Kiki's Delivery Service', 'Princess Mononoke', 'Nausicaa of the Valley of the Wind' and other famous compositions to warm the hearts of the audience during the autumn night.
The concert on October 9 will be the first in South Korea to recreate the emotion of the Ghibli 25th anniversary concert held at Budokan in Tokyo 14 years ago with a large-scale choir, thanks to the participation of the Duzon Symphonic Choir.
Yoon Gi Kim, the director and the general producer of the concert said, "The melody of Ghibli music is based on the song (chorus). I think it's a bit disappointing to express Ghibli music with only the orchestra. In the end, it is the human voice that moves people's hearts. I hope that the Ghibli Fall Music Festival with Korea's first large-scale choir can soothe the mind and body of people who are tired of Covid 19 and various social issues."
Studio Duzon shall be conducting a variety of media and business activities during the event such as performance planning, events, sound production and distribution, recording, video shooting and production.
A portion of ticket sales shall be donated to Korea Childhood Leukemia Foundation as part of the World Children Sponsorship Planning program.
Studio Duzon is a cultural enterprise that sponsors the Cho Rok Woo San for children and continues to engage in social contribution activities.
Media Contact
Company Name: Studio Duzon
Contact Person: Wongi Kim
Email: Send Email
Phone: +82-2-514-0050
City: Seoul
Country: Korea
Website: http://www.studioduzon.com/