Epilepsy Market to Register Incremental Growth During the Forecast Period (2022-2032), Asserts DelveInsight | Key Companies – Marinus Pharmaceuticals, Takeda, UCB Biopharma, Zynerba Pharma,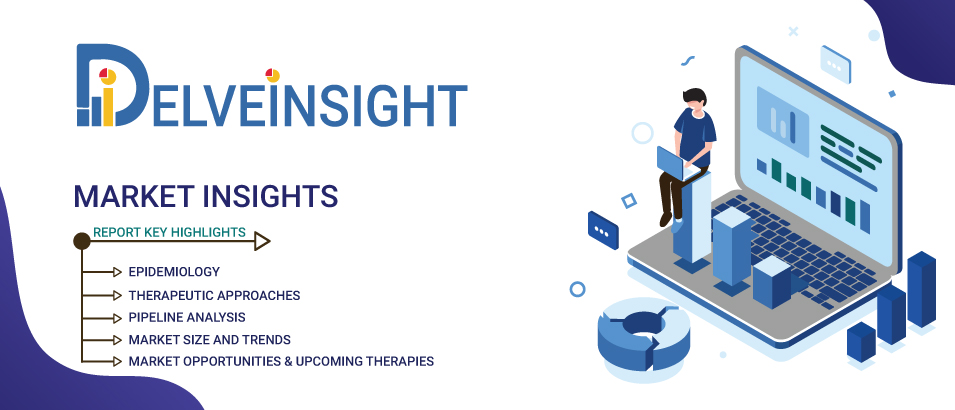 DelveInsight's "Epilepsy Market Insights, Epidemiology, and Market Forecast-2032″ report offers an in-depth understanding of the Epilepsy, historical and forecasted epidemiology as well as the Epilepsy market trends in the United States, EU5 (Germany, Spain, Italy, France, and United Kingdom) and Japan.
The Epilepsy market is expected to surge due to the disease's increasing prevalence and awareness during the forecast period. Furthermore, launching various multiple-stage Epilepsy pipeline products will significantly revolutionize the Epilepsy market dynamics.
Epilepsy Overview
According to the National Institute of Neurological Disorders and Stroke (NINDS), epilepsies are a spectrum of brain disorders ranging from severe, life-threatening, and disabling, to ones that are much more benign. In epilepsy, the normal pattern of neuronal activity becomes disturbed, causing strange sensations, emotions, and behavior or sometimes convulsions, muscle spasms, and loss of consciousness.
The Epilepsy signs and symptoms include: temporary confusion, staring spell, uncontrollable jerking movements of the arms and legs, loss of consciousness or awareness and psychic symptoms.
Some of the key facts of the Epilepsy Market Report:
The Epilepsy market size is anticipated to grow with a significant CAGR during the study period (2019-2032)
Certain factors like age, family history, head injury, stroke, dementia and others may increase the risk of epilepsy
Key Epilepsy Companies: Marinus Pharmaceuticals, Takeda, UCB Biopharma, Zynerba Pharma, Neurocrine Bioscience, Cerevel Therapeutics, PTC Therapeutics, and others
Key Epilepsy Therapies: Ganaxolone, Soticlestat, Staccato Alprazolam, Zygel, ACT-709478, NBI-827104, CVL-865, and others
The Epilepsy epidemiology based on gender analyzed that epilepsy is more prevalent among males than in females
Get a Free sample for the Epilepsy Market Report
Key benefits of the Epilepsy Market report:
Epilepsy market report covers a descriptive overview and comprehensive insight of the Epilepsy Epidemiology and Epilepsy market in the 7MM (the United States, EU5 (Germany, Spain, France, Italy, UK) & Japan.)
The Epilepsy market report provides insights on the current and emerging therapies.
Epilepsy market report provides a global historical and forecasted market covering drug outreach in 7MM.
The Epilepsy market report offers an edge that will help develop business strategies by understanding trends shaping and driving the Epilepsy market.
Discover more about therapies set to grab major Epilepsy market share @ Epilepsy market forecast
Epilepsy Epidemiology Segmentation:
The Epilepsy market report proffers epidemiological analysis for the study period 2019–2032 in the 7MM segmented into:
Total Prevalence of Epilepsy
Prevalent Cases of Epilepsy by severity
Gender-specific Prevalence of Epilepsy
Diagnosed Cases of Episodic and Chronic Epilepsy
Epilepsy Market
The dynamics of the Epilepsy market are anticipated to change in the coming years owing to the expected launch of emerging therapies such as Zygel, ACT-709478, and others during the forecasted period 2019-2032.
Download the report to understand which factors are driving Epilepsy epidemiology trends @ Epilepsy Epidemiological Insights
Epilepsy Market Drivers
Specialized multidisciplinary care
Constructive Efforts
Promising Emerging Epilepsy Therapies
Increase in Research and Development
Government Initiatives and Funding
Epilepsy Therapies and Key Companies
Ganaxolone: Marinus Pharmaceuticals
Soticlestat: Takeda
Staccato Alprazolam: UCB Biopharma
Zygel: Zynerba Pharma
ACT-709478/ NBI-827104: Neurocrine Bioscience
CVL-865: Cerevel Therapeutics
Vatiquinone: PTC Therapeutics
Scope of the Epilepsy Market Report
Study Period: 2019–2032
Coverage: 7MM [The United States, EU5 (Germany, France, Italy, Spain, and the United Kingdom), and Japan]
Key Epilepsy Companies: Marinus Pharmaceuticals, Takeda, UCB Biopharma, Zynerba Pharma, Neurocrine Bioscience, Cerevel Therapeutics, PTC Therapeutics, and others
Key Epilepsy Therapies: Ganaxolone, Soticlestat, Staccato Alprazolam, Zygel, ACT-709478, NBI-827104, CVL-865, and others
Epilepsy Therapeutic Assessment: Epilepsy current marketed and Epilepsy emerging therapies
Epilepsy Market Dynamics: Epilepsy market drivers and Epilepsy market barriers
Competitive Intelligence Analysis: SWOT analysis, PESTLE analysis, Porter's five forces, BCG Matrix, Market entry strategies
Unmet Needs, KOL's views, Analyst's views, Epilepsy Market Access and Reimbursement
Epilepsy Market Barriers
Heterogeneity Barrier
Differential Epilepsy Diagnosis
Specialized multidisciplinary care
Increase in Research and Development
Government Initiatives and Funding
Epilepsy Therapeutic Barriers
Public Health Barriers
Challenges during Clinical Studies
Table of Contents
1. Epilepsy Market Report Introduction
2. Executive Summary for Epilepsy
3. SWOT analysis of Epilepsy
4. Epilepsy Patient Share (%) Overview at a Glance
5. Epilepsy Market Overview at a Glance
6. Epilepsy Disease Background and Overview
7. Epilepsy Epidemiology and Patient Population
8. Country-Specific Patient Population of Epilepsy
9. Epilepsy Current Treatment and Medical Practices
10. Epilepsy Unmet Needs
11. Epilepsy Emerging Therapies
12. Epilepsy Market Outlook
13. Country-Wise Epilepsy Market Analysis (2019–2032)
14. Epilepsy Market Access and Reimbursement of Therapies
15. Epilepsy Market Drivers
16. Epilepsy Market Barriers
17. Epilepsy Appendix
18. Epilepsy Report Methodology
19. DelveInsight Capabilities
20. Disclaimer
21. About DelveInsight
To know more about Epilepsy treatment, visit @ Epilepsy Medications
Media Contact
Company Name: DelveInsight Business Research LLP
Contact Person: Gaurav Bora
Email: Send Email
Phone: 9193216187
Address:304 S. Jones Blvd #2432
City: Las Vegas
State: Nevada
Country: United States
Website: https://www.delveinsight.com/