Miami DJs rally behind promoter and influencer Leon Luis Martinez
Leon Luis Martinez has amassed 1.3 Million followers for showcasing the fast-paced and captivating lifestyle of the luxury Miami party and yacht scene.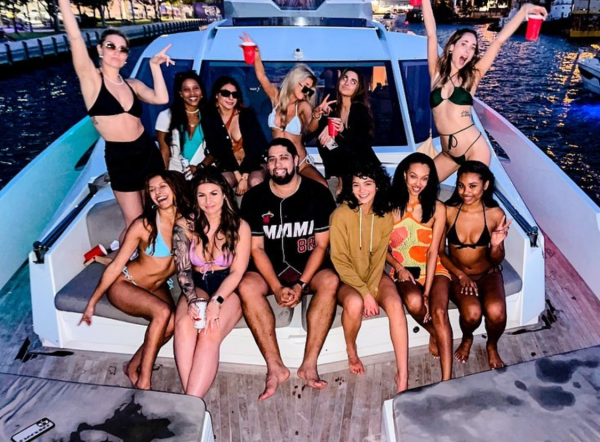 (Image Description: Sitting on over 5 billion views across all his social media platforms @WEHEARTLEON, nightlife promoter and influencer Leon Luis Martinez is flipping Miami on its head.)
Known as the Mermaid and Ocean King, Leon Luis Martinez is quickly becoming the most sought-after nightlife curator for celebrities, athletes, and more who are looking to escape into the alluring and captivating lifestyle of the Miami party scene. More than just a promoter, Martinez is an experience curator with a dual purpose; to give his clients the best night of their life, while offering his online audience a window seat into the luxury, luminous, and mesmerizing lifestyle that arguably illustrates why both Miami and Martinez are neck and neck for being undefeated when it comes to keeping things turnt for travelers and party goers who venture into his 'Kingdom'.
Affectionately known as the king of bachelorette and birthday parties, Martinez, who hails from Chicago, has the support and attention of popular DJs like DJ Dynamik (@itsdynamik) & Gianni Blu (@gianniblu). You can frequently hear them chanting his name on the mic at clubs like Mr. Jones & other popular venues in Miami as a sign of support for the impact he's had on the club and party scene. What makes him stand out is his mission to create experiences that help everyone who ventures into his stratosphere feel like they can be King or Queen for a day no matter their background or status. Championing his clientele, Leon decided to refer to women in Miami as mermaids, queens, and goddesses, as well as males as kings. This offered customers who booked services through his brand @WEHEARTLEON the impression that they were living a magical fantasy, even if it was only momentary.
Inspired by Gary Vee and his approach to social media, Martinez took this mission online of celebrating anyone and everyone who comes as royalty, and quickly amassed a huge following using featured pranks, interviews, satire, staged skits, and other original, amusing films that have gone viral on social media. Utilizing entertaining settings like yachts, pool parties, dinner parties, and well-known nightclubs became the icing on the cake, turning many of his social media followers into future clientele whenever they touch down in his city.
Martinez's influence also extends to high-profile clients and film productions like Bagatelle, Bottled Blonde, Coco, Daer Dayclub, E11even, El Tucan, El Santo, Komodo, LIV, Marion, Mr. Jones, Queen, Story, Strawberry Moon, Swan, Vendome, and Wet whom he has showcased on his platforms and promoted their products, services, and parties.
In 2023, Martinez is extending his Kingdom to bring his unmatched brand of experience curation to other cities such as Chicago, LA, NY, Vegas, and Scottsdale. In addition to bringing his experience to other playgrounds, he's received bookings from thousands of 'mermaids' from around the world who will be ascending on Miami this year, and no doubt will become a part of his social media experience.
Martinez, who is currently developing other influencers and promoters under his @WEHEARTLEON development arm, is dedicated to serving his clientele across all major cities in the country, including their home base Kingdom of Miami. Developing future leaders has opened the doors to pushing his impact globally.
If you find yourself in one of his Kingdoms, and you're looking for an exclusive VIP experience for your next party or event, then Martinez is the man to call. From nightclubs, restaurants, villas & mansion rentals, yachts, jet skis, luxury automobiles & bodyguards anyone interested in hiring him for a VIP experience can DM him at @weheartleon on Instagram or call 773.698.9152.
Watch one of @weheartleon's viral videos on YouTube: https://www.youtube.com/watch?v=wcTibqgj9zc
Media Contact
Company Name: @WEHEARTLEON
Contact Person: Leon Luis Martinez
Email: Send Email
Phone: 773.698.9152
City: Miami
State: Florida
Country: United States
Website: www.youtube.com/@Weheartleon